Mobile Banking
Online Banking access anywhere you go
---
Overview
Reviews
Resources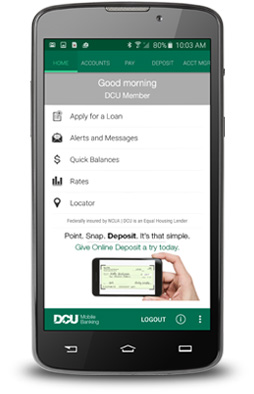 Mobile Banking at DCU
Mobile Banking gives you easy access to many Online Banking functions from virtually any mobile phone or internet-connected tablet computer through your web browser or our mobile apps. Now you can bank when you want to -- where you want to -- at home or on the go. DCU Security Assurance* allows you to check your balances or make a banking transaction at work, at school, in your car or while shopping.
What You'll Need to Begin
To use Mobile Banking, all you need is
an Android™ phone, iPhone™, iPad™ or other wireless device with a data plan or access to WiFi
your DCU member number, and
your Online Banking password.
Get our App for your Mobile Phone or Tablet
While all online banking features are accessible through dcu.org on your mobile phone or tablet, we've developed specific apps for different mobile phones and tablets to enhance your online banking experience.
Find out for yourself just how useful and easy mobile banking at DCU can be through one of our apps.
Service
Android
iPhone
iPad Tablet
Mobile Web
How to Begin




Apps not an option?
Go to

mobile.dcu.org

with any phone with a mobile browser
Cost from DCU
FREE
FREE
FREE
FREE
DCU Security Assurance*
✔
✔
✔
✔
Get Account Summary


Balance information on primary and joint accounts in one step.

✔
✔
✔
✔
Get Account Details


Balance, dividend/interest, and payment information on primary and joint accounts.

✔
✔
✔
✔
View Recent Transactions


See past account activity and view front and back of cleared checks

✔
✔
✔
✔
Transfer Funds


Move money between your DCU accounts

✔
✔
✔
✔
Transfer to Another Member**
✔
✔
✔
✔
View Rates


View rates on all of our products

✔
✔
✔
✔
Contact Us


View the various ways to get in touch with DCU

✔
✔
✔
✔
Pay Bills
✔
✔
✔
Deposit Checks


Make a deposit from your mobile device

✔
✔
✔
Find Branch/ATM Locations
✔
✔
✔
✔
Learn More
Learn More
Learn More
Learn More
* DCU Security Assurance Includes:
Secure login – using the same secure login information that is used to log into Online Banking.
Member number and password privacy – When logging in, passwords are never stored at any stage. For user authentication and reporting purposes, member numbers are stored but never shared or visible to outside parties.
Mobile Banking data is encrypted using the Wireless Transport Layer Security (WTLS) protocol and HTTPS/SSL, which provides the highest level of security.
Session timeout – A session timeout after 20 minutes of inactivity is built in. This prevents someone from picking up your phone and accessing accounts.
** To set up a transfer to another member (Cross Account Transfers), fill out a request form in Account Manager within Online Banking and these accounts will be added to your transfer list. Each time you complete a transfer, your DCU member number will be reflected on the recipient account statement for identification purposes.
"What a great service!"

Since I've been using Mobile PC Branch, I can't remember the last time I had to drive to a branch to make a check deposit. Simply brilliant!

— Jenn, Billerica, MA
Related Mobile Banking Links
Other Resources