Mobile Banking
Online Banking access anywhere you go
---
Overview
Reviews
Resources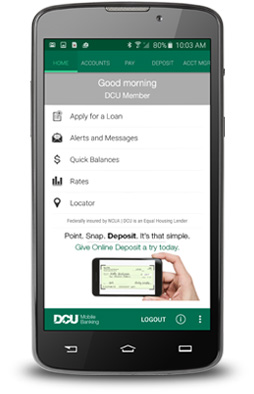 Mobile Banking at DCU
Mobile Banking gives you quick and easy access to many Online Banking functions from virtually any smartphone or tablet through our mobile app or with your mobile phone's browser using mobile.dcu.org. Use Mobile Banking to deposit checks, pay your bills, view recent transactions, or transfer funds — anytime, anywhere.
What You'll Need to Begin
To use Mobile Banking, all you need is:
an Android™ phone, iPhone™, iPad™ or other wireless device with a data plan or access to WiFi;
your DCU member number, and;
your Online Banking password.
Download the DCU Mobile Banking App
Visit the Apple App store or Google Play and search for "DCU" to download the DCU Mobile Banking app today!
Service
Android
iPhone
iPad
Mobile Web
How to Begin




Apps not an option?
Go to

mobile.dcu.org

with any phone with a mobile browser
Cost
FREE
FREE
FREE
FREE
Secure Transactions
✔
✔
✔
✔
Deposit Checks


Make a deposit right from your mobile device

✔
✔
✔
Pay Bills
✔
✔
✔
Transfer Funds

✔
✔
✔
✔
Online Balance Transfer

✔
✔
✔
Apply for a loan

✔
✔
✔
Account Summary


Balance information on primary and joint accounts.

✔
✔
✔
✔
Account Details


Balance, dividend/interest, and payment information on primary and joint accounts.

✔
✔
✔
✔
View Recent Transactions


See past account activity and view front and back of cleared checks

✔
✔
✔
✔
Transfer to Another Member**
✔
✔
✔
✔
View Rates

✔
✔
✔
✔
Contact Us

✔
✔
✔
✔
Branch/ATM Locator
✔
✔
✔
✔
Learn More
Learn More
Learn More
Learn More
Mobile Banking Security Details:
Member number and password privacy — When logging in, passwords are never stored at any stage. For user authentication and reporting purposes, member numbers are stored but never shared or visible to outside parties.
Mobile Banking data is encrypted using the Wireless Transport Layer Security (WTLS) protocol and HTTPS/SSL, which provides the highest level of security.
Session timeout — A session timeout after 20 minutes of inactivity is built in. This prevents someone from picking up your phone and accessing accounts.
** To set up a transfer to another member (Cross Account Transfers), fill out a request form in Account Manager within Online Banking and these accounts will be added to your transfer list. Each time you complete a transfer, your DCU member number will be reflected on the recipient account statement for identification purposes.
Awesome App
Best App available. Thanks DCU. Makes Life simpler.
May 29, 2015
DCU is the best!
DCU is the best! Best bank, best site, best app. period.
May 21, 2015
switch to DCU
Mobile banking has made it so convenient for my banking needs. DCU has all my accounts and all my confidence. If you are not banking with them....you should take a serious look at them. You will not be dissatisfied at all.
March 22, 2015
Not giving me a reason to change :-)
I was in the Northeast in the late nineties when I opened a DCU account ...2 years later I moved to the Northwest .... It's been 14 years since then and I have been looking for a good reason to move my account to a local bank here ...But ... DCU has never given me that reason ... Whatever I need from a bank is always there ... Free checking, Good Visa credit card, Good mortgage rates ...Mobile banking...great service when I call.....wow! Excellent bank .... Great job!
October 12, 2014
Excellent App!!
Very happy with the ease of installation and ease of logging in. Tellers and staff are always pleasant and helpful. Services are great. Wish logging in and accessing my account in Windows was this easy. Because I clear cookies after each session, I have to go through the verification process every time. This doesn't happen with my other banks.
August 30, 2014
Banking whenever and wherever I am
Thank you for this amazing phone app! I can transfer funds between my checking and savings accounts with ease and check my balances anytime. I love being able to instantly check to see if my direct deposit has been made to my checking account and then transfer money to savings if desired.
March 8, 2014
Love the app has always done everything I want but............
I have been waiting for the app to allow for transfers from member acct. to member acct. and last I checked I cannot. I would love to see this become available. They have always been great in updating the app and from the very first version until now I have always loved it.
October 12, 2013
Amazingly Fast and Easy
I have been banking online with DCU for a while now. Scanning and cropping images was tedious when making a deposit. However, I downloaded the mobile app, signed the check, took two quick pictures and in less than two minutes from start to finish, my deposit was complete. No cropping, scanning, correcting the image quality, etc. This was MUCH better than online, which is already convenient.
July 9, 2013
---
---
"Banking on the Go!"

Thank you for this amazing phone app! I can easily transfer funds between my checking and savings accounts, check my balances and instantly check to see if my direct deposit has been made to my checking account!

— Karen92, Andover, MA
Related Mobile Banking Links
Other Resources