Second Chance Car Loans
Keep your car. Trade your loan.
---
Features
Details
Rates
Reviews
Apply Now
Resources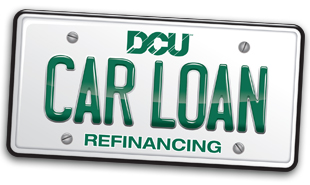 Refinance Today and Start Saving!
Move your car loan to DCU and...
Lower your payment
Lower your rate,
or both!
Auto Loan Refinance Calculator
Your Annual
Percentage Rate
at DCU*
1.99%
Estimated Monthly Payments at DCU
$287
Estimated Monthly SAVINGS at DCU
$65
Estimated LOAN SAVINGS at DCU
$2305
800.328.8797 (select 3)
Please refer to Details and Rates tabs for additional information and important disclosures.
"Loan was fast, very low rate, and easy."

Best rate I found anywhere, and the fastest response times.

— Eric, Guilderland, NY
Moving your car loan to DCU can cut your payment
In today's economy, every dollar that you save counts. Wouldn't you like to reduce the monthly cost of owning a car? With a 2nd Chance Car Loan, DCU can lower your monthly payment.
How do 2nd Chance Car Loans work?
We can usually save you money one or two ways...
Lower your interest rate – We often find people were given a higher rate than they deserved at another institution or dealership – especially on used cars.
Spread out your remaining balance – We can spread out what's left on your loan so each monthly payment is smaller.
Whether you opt for a smaller monthly payment or to pay off your loan faster, you can save a bundle on your monthly expenses.
Let us evaluate your current loan
We'll look at...
The make and model of the vehicle
The remaining loan balance
The current monthly payment and interest rate
The original number of payments and how many you have left
The name, address, telephone number, and loan account number for your current lender (most of this information will be in your loan coupon book or statement)
From that, we'll be able to estimate how much you'll save. Your actual savings will depend on your personal credit history, account relationship, and repayment method.
You can always expect an honest evaluation from DCU
If we can't reduce your payment, we'll let you know. Our vision is that All members achieve their financial goals. We want to ensure you get a good deal...even if you already have it. It's worth a few moments to find out how much we can help you.
How can we offer such a good deal?
Because our auto loans are already a great value...
New or used vehicles at the same low rates – Car dealers and most institutions often charge you more for used – some 20% or more.
Borrow for cars, trucks, or vans – Borrow to buy your next vehicle or refinance the one you drive.
Great rates and affordable payments – Finance up to 84 months. The longer the loan term, the lower your monthly payment.
Borrow up to 120% of Price – Qualified borrowers can finance up to 120% of NADA retail book value or 120% of the purchase price – whichever is less, PLUS DCU GAP and DCU Warranty. DCU will only finance over 100% when it's DCU's GAP and Warranty, not dealer add-ons.
Save with Relationship benefits and electronic payment – Save on rates when you qualify for Relationship benefits on your DCU Checking Account and make payments electronically (payment by transfer in Online Banking, Mobile Banking, Easy Touch Telephone Teller, DCU ATM, or internal DCU automatic transfers). Add 0.50% to rate for other payment methods.
Auto Loan Refinancing Rates*
Terms / Features
Our Best Rates*
Annual Percentage Rate
(APR)
Estimated Monthly Payment
Per $1,000 Financed
Auto Loan Calculator
Up to 36 months
1.99%
$28.64
Up to 48 months
1.99%
$21.69
Up to 65 months
1.99%
$16.24
Up to 72 months
2.99%
$15.19
Up to 84 months
4.49%
$13.90
Rates are effective .
*Rates are determined by your personal credit history, account relationship, and payment method. Rates listed are for consumer loans. Rates on commercial vehicle loans are 1% to 3% over rates listed. Certain business vehicle and equipment loans may be subject to a maximum loan of 80% of the purchase price.
Second Chance Car Loans
is rated out of
5
by
4180
.
Rated

5

out of

5
by
Anonymous
from
Re-Finance my Auto Loan
Low rate compare to my previous auto loan. Love the support. My credit score is not that great. DCU gave me a second chance.
Date published: 2017-04-22
Rated

5

out of

5
by
Anonymous
from
Car loan is very easy
Dcu loan is simple, effective and easy . Process is easy too.
Date published: 2017-04-22
Rated

5

out of

5
by
Anonymous
from
We r very happy to use this product
We r very surprised that within 24 hours we got over dream becomes true.Thank you very much DCU and great job !!!
Date published: 2017-04-22
Rated

5

out of

5
by
Anonymous
from
Car loan refinance
This was the easiest way to refinance and the customer service online and in person were all amazing.
Date published: 2017-04-22
Rated

5

out of

5
by
Anonymous
from
I have to rate you as having excellent products!
We have always had excellent service by your team! Explaining all the features in the product we looked at over the years. Home improvement loans Second chance loans Visa card
Date published: 2017-04-22
Rated

5

out of

5
by
Anonymous
from
Very easy to get!
The process was easy and very convenient! I received a great service from the staff.
Date published: 2017-04-21
Rated

5

out of

5
by
Anonymous
from
No better bank than DCU
I highly recommend DCU for all banking needs! I have used them twice for car loans and could not have been more satisfied. They are extremely helpful and have excellent customer service. I will continue to use them and recommend them to others!
Date published: 2017-04-18
Rated

5

out of

5
by
Anonymous
from
DCU is great place to be a customer!
Applied for Car loan and got it very fast! Great service and i would definitely recommend DCU. Try you will have pleasant surprise.
Date published: 2017-04-18
---
Request for auto loan
Hi, I recently moved to US from India in H1B. I do not have a credit score yet. I am planning to get a car for my daily use. My budget is 5000$ TO 10000$. Please let me know if DCU be able to provide me an auto loan and if so how much can DCU provide me over the price of the car.
Hi Arun, You can contact DCU Customer Service with contact details mentioned on website, DCU executive will ask you for the standard details like requirement, Address, Social proof, Offer letter if pay stubs are not yet generated. Once you have all the documents, you loan approval and processing will not take more than 5 days. In my case it was disbursed and received by me on third day.
Date published: 2017-03-04
Does applying for a 2nd chance auto loan affect your credit score and/or put a hard inquiry on your credit?
Any time you request a "loan" from most institution they will hard pull you, even those that say they soft pull, eventually will make a hard pull upon approving the loans. Some may qualify you with a soft pull but still will do a hard when you go through with the actual loan. Every inquiry and new account will affect your credit because that's just how it is designed by the Bureaus and not set by the banks. Depending on a lot of factors the amount of affect will depends if you have superior credit it may not do much but if you have weak credit it may affect it much more until it ages and you pay on it on time.
Date published: 2017-02-18
Used car loan
Hi, I am in US past 10 months on my H1 and getting decent pay and my salary account with BOA, i am thinking for get used car around 10k and i am able to find used car,however when i tried to get loan from BOA, they rejected loan and i am sure it will effect to credit history and I have decent credit score 677 not bad for 10 months old person in US i believe, now please let me know if i get autoloan in from DCU.
First, do not disclose your credit score to anyone except banks or authorised places. This score Is not to be disclosed in such forums. You can call dcu customer care and speak to loan expert officers and they will help. They are very polite and helpful to explain in details about the product and Answer your queries.
Date published: 2017-03-25
Is there any limit to how old a car can be to get a second chance loan?
There is no limit, but DCU checks the history of the car that you wish to buy before issuing loan amount.
Date published: 2017-02-04
Car Payment
I was wondering how I can make payments through dcu checking account. I already set up direct deposit to cover my car payment.
Go to Bill Payer, add your payee and then schedule your one time or recurring payments.
Date published: 2017-02-04
---
"Saving Money"

I recently refinanced my car with DCU and I saved so much money that it makes my new home buying experience less stressful. Being a DCU member for 4 years now I received a lower rate than expected.

— Nelson, Chichester, NH
It's easy to apply for a DCU 2nd Chance Car Loan
Apply Online – 24 hours a day, 7 days a week.
Apply by phone – 24 hours a day, 7 days a week call 800.328.8797 or 508.263.6700 and press 3.
Any DCU Branch – Visit your local branch.
"Loved the lower interest rate!"

DCU came through with the best interest rate, and the process was so simple! Keep up the great job!

— Whitehall, Hopkinton, MA
Second Chance Car Loan Resources
Second Chance Car Loan Related Links