Ltd Savings Account
High variable rates, unlimited deposits, one free monthly withdrawal
---
Features
Details
Rates
Reviews
Open Now
Resources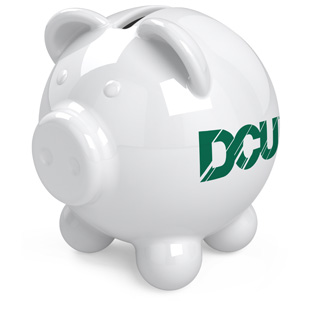 Ltd Savings Account
Our highest variable savings account rates
Unlimited deposits
No charge for first withdrawal per month*
$25,000 minimum to earn dividends
$0 to open
Free online, mobile, and branch access
Federally insured by NCUA
*A withdrawal is defined as any money removed from the account whether it is cash or a transfer of funds.
Please refer to Details and Rates tabs for additional information and important disclosures.
"Useful Product"

This product is a good compromise between a Money Market account and a Certificate, especially in these low interest times. Very useful if you are saving for a specific need.

— Jeff, Boxborough, MA
Ltd Savings Account Details
Our highest variable savings account rates – The DCU Ltd Savings Account offers you rates comparable to our highest Money Market Account rates in exchange for reduced withdrawals. If you need more frequent access, the Money Market Account would be a better choice for you. If you don't need regular access, you should consider our Jumbo Certificates for even higher returns.
Unlimited deposits – Add to your account as often as you like for free.
No charge for first withdrawal per month – The withdrawal can be any amount of money removed from the account in the form of cash or a transfer of funds. The second and any subsequent withdrawals each month are $25 each.
$25,000 minimum to earn dividends – Dividends are paid from day of deposit to day of withdrawal compounded daily and paid monthly.
$0 to open
Free online, mobile, and branch access – You can access your account 24 hours a day using any DCU ATM, Online Banking, and Easy Touch Telephone Teller. You can access your account in any DCU branch and make deposits online anytime with a scanner or camera in your smart phone by Online Deposit.
Federally insured by NCUA – Learn more about insurance on all your savings at DCU and how to maximize your coverage.
Dividends are paid on entire balance for each day a $25,000 balance is maintained. Dividends are posted at the end of each calendar month. Paid dividends remaining in the account will earn dividends at the same rate and on the same terms. Dividends compound daily and are based on a 365-day year. Accrued dividends not yet posted will be forfeited if account is closed. The minimum balance required to maintain current status is $0.01. You can make a maximum of one no charge withdrawal from the account each calendar month. A fee of $25.00 will be automatically assessed for each additional withdrawal during the month.
Rates may change after the account is opened and are subject to change weekly. Refer to DCU's Truth-In-Savings Disclosure and Account Agreements and Schedule of Fees and Service Charges.
Please refer to Features and Rates tabs for more information.
Ltd Savings Accounts*
Minimum balance of $25,000 to earn dividends. No minimum to open. Unlimited deposits. One no charge withdrawal per month.
| Balance Tiers | Dividend Rate | Annual Percentage Yield |
| --- | --- | --- |
| When daily balance is $25,000 or more | 1.05% | 1.06% |
Rates are effective .
*Rate may change after the account is opened and is subject to change weekly. Funds earn dividends from the first business day of deposit and are compounded daily and posted monthly. Accrued dividends are forfeited if account is closed prior to monthly dividend posting. Fees or other conditions may reduce earnings on these accounts. Refer to DCU's Truth-in-Savings Disclosures and Account Agreements, Ltd Savings Account Application and Disclosure, and Schedule of Fees and Service Charges.
Annual Percentage Yield (APY) is a figure calculated using a federally-mandated formula. It's designed to help you compare the return you'll get in a uniform way between the certificate, savings, and money market accounts offered at various institutions. It tells you at what percentage your money will grow in one year at the same dividend rate – including the effects of compounding. For example, the APY on a 6-Month Certificate would be what you earned at the end of a year if you renewed your certificate once, did not add to or subtract from the balance along the way, nor withdrew any dividends.
Please refer to Features and Details tabs for more information.
Ltd Savings Account
is rated out of
5
by
122
.
Rated

5

out of

5
by
Sisse
from
So far great
We just opened a Ltd account. The process was so easy. We are very happy with the higher interest rate we will be getting.
Date published: 2018-05-12
Rated

5

out of

5
by
Darren F
from
Good rate and product
DCU makes it very easy to open up savings accounts and transfer your extra money to a good account like this. With the good rate given, this makes the LTD Savings worth it for all members.
Date published: 2018-03-31
Rated

5

out of

5
by
Stevepatterson05
from
Dcu bank has great features
I am proud to a member for dcu bank, it's has a good Banking system
Date published: 2018-01-13
Rated

5

out of

5
by
mr
from
Best interest rate around!
I shopped online and found that DCU is paying the highest interest rate by far! That makes this the very best savings account around.
Date published: 2017-12-29
Rated

5

out of

5
by
Kg21
from
Great service
I like the rate for this account and you can withdraw once a month with no charge.
Date published: 2017-12-23
Rated

5

out of

5
by
Raghu
from
Great Product
In the market, this is a very valuable product that gives a good return on money that you don't want to lock up in CD's and other long term commitments.
Date published: 2017-11-18
Rated

5

out of

5
by
Nyak1990
from
A good account to have providing higher interest rate and still have access to your cash if needed without any penalties.
The staff was very well informed about the services available to us and we were very comfortable to dealing with them. Simply put, the branch staff is truly outstanding!
Date published: 2017-10-07
Rated

5

out of

5
by
RickM
from
outstanding product and customer service.
Until going in yesterday, I wasn't even aware this higher interest opportunity was available. While at DCU for other banking needs, your member service rep named Martha L in the Littleton branch introduced me to the product and I immediately enrolled with it. She was very thorough in her product summary and description.
Date published: 2017-09-16
---
Time Commitment
Is there a time commitment required for this account? If I decide to move my full savings in 6 months, are there any penalties?
There is not a minimum time commitment for the LTD account. However, only make one withdrawal during a month.
Date published: 2014-05-31
can the LTD account be used for an IRA account?
The LTD is a savings account. The Individual Retirement Arrangement (IRA) is a tax-classification for deposited funds. Once you have IRA-based funds; then you may use any regular banking vehicle. This means that you can use the IRA money in checking (over 59.5 years old), Certificates of Deposit, MoneyMarket, and LTD savings accounts. Yes, you may place your IRA classified funds into an LTD savings account.
Date published: 2015-04-21
Is there a limit on once a month free withdrawal amount in LTD Savings account?
There is not a limit to the amount of money that can be withdrawn from the LTD Savings account (up to once time per month). However, you will NOT earn any interest when below the minimum investment balance (currently $25,000).
Date published: 2014-05-31
With LTD savings.. I can withdraw without penalty every month if balance is more than 25K?
One free withdrawal from an Ltd Savings is permitted each month. Additional withdrawals during the calendar month are $25 each. There are no penalties assessed if the balance falls below $25,000, however, the Ltd Savings only earns dividends when the balance is $25,000 or more.
Date published: 2014-09-20
Is my savings taxable in Mass. ?
If you have earned $10 or more in dividends you would be required to report these funds on your tax returns. If this is the case A 1099 would be generated for your accounts and is available under the ESTATEMENTS section of Online Banking. For any further information regarding your funds and tax returns we recommend that you speak with a Tax Advisor.
Date published: 2018-05-26
---
"Opening account as simple as a click"

This account was easy to open and has good value for money.

—Prem, Wallingford, CT
Easy Ways To Open an Ltd Savings Account
Open Online – Opening an Ltd Savings Account is fast and convenient! Follow the simple step-by-step instructions and open your account in minutes online.
By Phone – Call 800.328.8797 or 508.263.6700, (select 3).
Visit a DCU Branch – Visit a local branch and open a Ltd Savings Account. A Member Service Representative will assist you and be able to answer all your questions.
"Great savings option"

This has been a great savings tool. It's perfectly in-between a traditional share savings account and a certificate of deposit.

— Mona, Dallas, TX