Access Loans
Finance equipment and home improvements to assist with disabilities
---
Features
Details
Rates
Reviews
Apply Now
Resources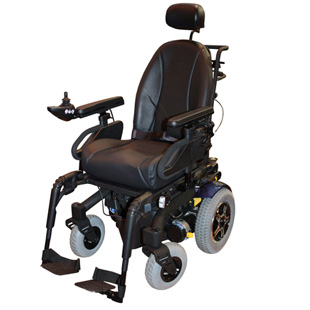 Access Loan Benefits
For any product, device, or building modification designed to assist someone with a disability
Terms up to 72 months
Loans from $1,000 to $25,000
Save with Plus and Relationship benefits and electronic payment
Please refer to Details and Rates tabs for additional information and important disclosures.
"Count On"

Whenever I am in need of a product or service, DCU is there to lend a hand.

— Shirley, San Diego, CA
Access Loan Overview
Access Loans are for any product, device, or building modification designed to assist someone with a disability. The borrower need not be the beneficiary of the purchase. Qualified purchases include, but are not limited to:
Powered non-vehicle transportation such as scooters, power wheelchairs, stair-climbing power chairs, all-terrain wheelchairs.
Manual transportation such as standard manual wheelchairs, custom sport wheelchairs, and specialized hand cycles.
Adaptive computer and communications equipment such as air tube systems for spinal cord injuries, voice systems for the blind, educational and rehabilitation systems for children and adults.
Durable medical equipment such as slings for lifting paraplegics and quadriplegics, breathing systems, specialized beds.
Rehabilitative equipment such as motorized equipment that exercises muscles and limbs.
Accessible building modifications such as bathroom accessibility, kitchen modifications, widening doorways for wheelchairs, lowering countertops, changing cabinets, modifying sinks and faucets, installing ramps, elevators, stair climbing devices, installing ceiling lifts.
Save with Plus and Relationship benefits and electronic payment – Save on rates when you qualify for Plus and Relationship benefits on your DCU Checking Account and make payments electronically (payment by transfer in Online Banking, Mobile Banking, Easy Touch Telephone Teller, DCU ATM, or internal DCU automatic transfers. Add 0.50% to rate for other payment methods.
Qualified members may obtain Access Loans, for 100% of the purchase amount, from $1,500 to $25,000 and with terms up to 72 months. (Higher amounts may be considered. Normal underwriting guidelines apply.*)
*Credit history, income, and term are considered in loan approval and rate decisions.
Access Loan Rates
Available for Mobility Scooters, and any product, device or building modification designed to assist individuals with a disability.
Qualified borrowers may finance up to 100% of the purchase price or retail book value.
Our Best Rates*
Terms / Features
Annual Percentage Rate
Estimated Monthly Payment
per $1,000
Up to 36 Months
7.60%
$31.15
Up to 48 Months
7.85%
$24.34
Up to 60 months
8.10%
$20.32
Up to 72 months
9.35%
$18.20
Rates are effective .
* Rates are determined by your personal credit history, account relationship, and payment method.
Access Loans
is rated out of
5
by
6
.
Rated

5

out of

5
by
TONY
from
I'm a benefitiary of ths service
I HAVE USED DCU FOR THE PURCHES OF 2 ACCESIBLE VAN. GREATE SERVICE, VERY LOW APR AND NO MIDLE PERSON. YES I RECOMMEND THIS ACCESS LOAN...........BRUN AND BUSSANI USED THIS SERVICE BE VERY CAREUL.
Date published: 2015-06-11
Rated

5

out of

5
by
Jackthecat
from
Thank You
We have made numerous loans to improve our sons quality of life through transporation with the help of mobility loans with DCU. Thank You
Date published: 2014-11-05
Rated

5

out of

5
by
Dots27
from
Personal Load for House Project
I have a small project at home where we are taking down trees. Needed a small loan to pay for larger trees to be taking down by professional. The process was fast and easy. My only comment is the interest rate was significantly higher than I was previously told, and I have excellent credit. There was no explanation as to why it was higher. But since it was a low value loan I accepted.
Date published: 2014-10-04
Rated

5

out of

5
by
Lisa
from
Helpful, I was able to obtain a loan online.
I like the fact I could apply online. It made it easier for me since I have a physical disability. I was approved right away, just wish the finance rate was lower. Thank you Hillary for being a tremendous help and very pleasant to work with!
Date published: 2014-05-17
Rated

4

out of

5
by
Bob47
from
My experience taking out a personal loan
I took out a signature loan, but there isn't any field in the review selector for general/signature loans. Several things went wrong. When I arranged the loan by phone, the person I talked with didn't ask me if I wanted to buy protection insurance. This is a problem, because under the current system if you want to buy it, you must buy it before the loan is booked. I didn't think to ask about it. When I went to the office to sign for the loan, I asked if I could buy basic protection. She said to do this I would have to be re-approved for the loan. I didn't want to incur this delay, so I didn't buy it. I then asked how much this protection would cost. The person in the office was "thrown" by my question. She kept me waiting for 10 minutes while she looked for the answer. I wouldn't have asked this question if I had known how much trouble it would cause.
Date published: 2013-09-30
Rated

3

out of

5
by
cmallen
from
helpful product which could improve
The access loan is a great option--especially if you want to own your assistive technology product since few options and little funding are available. It is possible to qualify for an access loan on a low income with a good credit score. However, the interest rate is a bit high. It was disheartening to find out that I would only have three years to pay off the loan as opposed to the 72 months offered in the application. Therefore, it is best to ask for exactly what the loan terms will be right away after the application is approved. A DCU access loan is a good product, but it is advisable to consider all possible options in determining what works best for you.
Date published: 2012-01-09
---
Financing
Hi I was wondering what the credit score needed is to obtain a loan for an fes bike would be I think the cost is about 10-15k and I could put like 2-3k down?
Each application is individually reviewed for consideration of the loan being requested, rather than being based solely on a particular credit score minimum. In order to determine your eligibility, you will want to apply either from our web site or by calling us.
Date published: 2013-12-28
How much interest on loan between 4000 - 6000
Rates are based on your personal credit history, account relationship, repayment method, and term length. To determine the rate you qualify for, you will need to apply.
Date published: 2016-04-16
What are the qualifiacations for disabled van loan ie minimum credit score etc.
Loan decisions are based on many factors: credit history, income & employment length, relationship with DCU, etc. Each application is individually reviewed to determine an applicant's eligibility for the loan desired. You would need to apply, to have your request considered.
Date published: 2016-07-09
---
"Highly Recommend"

There is no doubt that I wouldn't recommend DCU when a friend or family members needs a credit union

— Anu, Rockland, MA
Easy Ways To Apply For An Access Loan
Apply Online – 24 hours a day, 7 days a week.
Apply by phone – 24 hours a day, 7 days a week call 800.328.8797 or 508.263.6700 and press 3.
Any DCU Branch – Visit your local branch.
"Own Your Equipment"

Access loan is a great option - especially if you want to own your assistive technology product.

— Cmallen, Houston, TX
Access Loan Resources
Are You Already Approved? – Log in to Online Banking and check your Account Manager Inbox for a message. If you are, you can accept your approved loan online.
Loan Payment Method Authorization (.pdf format) – Use to have DCU set up electronic loan payments by transfer from your DCU savings or checking account. Note: you can set this up on your own with Internet Online Banking Automatic Transfers.
Payment Protection – Helps relieve the pressure of your loan payments during certain unexpected events.
Access Loan Related Links