Access Loans
Finance equipment and home improvements to assist with disabilities
---
Features
Details
Rates
Reviews
Apply Now
Resources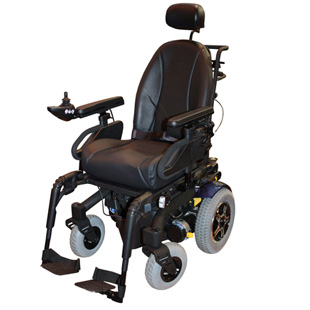 Access Loan Benefits
For any product, device, or building modification designed to assist someone with a disability
Terms up to 72 months
Loans from $1,000 to $25,000
Save with Relationship benefits and electronic payment
"Count On"

Whenever I am in need of a product or service, DCU is there to lend a hand.

— Shirley, San Diego, CA
Access Loan Overview
Access Loans are for any product, device, or building modification designed to assist someone with a disability. The borrower need not be the beneficiary of the purchase. Qualified purchases include, but are not limited to:
Powered non-vehicle transportation such as scooters, power wheelchairs, stair-climbing power chairs, all-terrain wheelchairs.
Manual transportation such as standard manual wheelchairs, custom sport wheelchairs, and specialized hand cycles.
Adaptive computer and communications equipment such as air tube systems for spinal cord injuries, voice systems for the blind, educational and rehabilitation systems for children and adults.
Durable medical equipment such as slings for lifting paraplegics and quadriplegics, breathing systems, specialized beds.
Rehabilitative equipment such as motorized equipment that exercises muscles and limbs.
Accessible building modifications such as bathroom accessibility, kitchen modifications, widening doorways for wheelchairs, lowering countertops, changing cabinets, modifying sinks and faucets, installing ramps, elevators, stair climbing devices, installing ceiling lifts.
Save with Relationship benefits and electronic payment – Save on rates when you qualify for Relationship benefits on your DCU Checking Account and make payments electronically (payment by transfer in Online Banking, Mobile Banking, Easy Touch Telephone Teller, DCU ATM, or internal DCU automatic transfers. Add 0.50% to rate for other payment methods.
Qualified members may obtain Access Loans, for 100% of the purchase amount, from $1,500 to $25,000 and with terms up to 72 months. (Higher amounts may be considered. Normal underwriting guidelines apply.*)
*Credit history, income, and term are considered in loan approval and rate decisions.
Access Loan Rates
Available for Mobility Scooters, and any product, device or building modification designed to assist individuals with a disability.
Qualified borrowers may finance up to 100% of the purchase price or retail book value.
Terms / Features
Our Best Rates*
Annual Percentage Rate
Estimated Monthly Payment
per $1,000
Up to 36 Months
6.85%
$30.81
Up to 48 Months
7.10%
$23.99
Up to 60 months
7.35%
$19.97
Up to 72 months
8.60%
$17.83
Rates are effective .
* Rates are determined by your personal credit history, account relationship, and payment method.
"Highly Recommend"

There is no doubt that I wouldn't recommend DCU when a friend or family members needs a credit union

— Anu, Rockland, MA
Easy Ways To Apply For An Access Loan
Apply Online – 24 hours a day, 7 days a week.
Apply by phone – 24 hours a day, 7 days a week call 800.328.8797 or 508.263.6700 and press 3.
Any DCU Branch – Visit your local branch.
"Own Your Equipment"

Access loan is a great option - especially if you want to own your assistive technology product.

— Cmallen, Houston, TX
Access Loan Resources
Are You Already Approved? – Log in to Online Banking and check your Account Manager Inbox for a message. If you are, you can accept your approved loan online.
Loan Payment Method Authorization (.pdf format) – Use to have DCU set up electronic loan payments by transfer from your DCU savings or checking account. Note: you can set this up on your own with Internet Online Banking Automatic Transfers.
Payment Protection – Helps relieve the pressure of your loan payments during certain unexpected events.
Access Loan Related Links