Join DCU on a BOSTON25 News Zip Trip!
Help us recognize the local DCU Hometown Hero making a difference.
Are You Ready to Zip Trip with BOSTON25 News & DCU?
Each Friday throughout the summer, DCU will be zip-tripping to towns and cities across Massachusetts as the exclusive financial sponsor for the popular BOSTON25 Zip Trip series. Join us and be a part of the live audience as BOSTON25 broadcasts from 6am to 10am. Stop by the DCU tent, say hi, find out "What DCU Can Save You" and be on-hand as the DCU Hometown Hero is presented to a local resident for their courage, outstanding achievements, and contributions to make his or her community a better place to live.
BOSTON25 Morning News Anchors Gene Lavanchy, Sara Underwood, Daniel Miller, Julie Grauert, Meteorologist Shiri Spear, Elizabeth (Lilly) Hopkins, and BOSTON25's "Around Town" Host Michele Lazcano will be broadcasting LIVE in towns and cities each week highlighting what's unique and special about each of the ten zip codes we'll be traveling to.
Neighbors, residents, and kids of all ages who want to share their "Hometown Pride" are encouraged to be part of their live audience! The live broadcasts give attendees the chance to show off why they think their town is a great place to live. Explore historic towns and cities with us, meet the people, and enjoy specialty food demonstrations. Furthermore, sponsors will be giving out free accessories to ensure that no one leaves empty-handed.
The popular "Taste of the Town" segment will being returning this year along with other favorite segments. The Zip Trips are becoming ever more child-friendly this summer with the addition of a family play area, and a kids' fun run. This will in turn lead to more participation to make this summer the best Zip Trips yet!
2018 Zip Trip Schedule:
| | |
| --- | --- |
| 6/22 – Peabody, MA | 7/27 – Uxbridge, MA |
| 6/29 – Weymouth, MA | 8/3 – Chatham, MA |
| 7/6 – Fitchburg, MA | 8/10 – East Boston, MA |
| 7/13 – Franklin, MA | 8/17 – Billerica, MA |
| 7/20 – Medford, MA | 8/24 – Duxbury, MA |
Just Some Of The Zip Trip Activities Include:
DCU Hometown Hero: Meet the local hero who helps out whenever needed and is making a difference in their community.
Town Tour: The BOSTON25 team explores the best eats, must-see attractions, hidden gems, and little known landmarks
Home Town Team: A salute to a youth or senior team ranging from baseball and soccer to the local running club.
On the Market: Preview homes for sale in the area and hear about schools, services and recreation.
Firehouse Fridays: The local fire station and firefighters will be honored for all they do.
Zip Trip Fan of the Week: BOSTON25 News will pick someone from the crowd with true "Zip Trip Spirit" as their Fan of the Week.
High Speed Deal: On-site scavenger hunt game for Zip Trip attendees.
Zip Trip Jr. Reporter: BOSTON25 News will select a young viewer from the crowd to help them with a few reporter duties.
Morning Warm-Up : Rise and shine with a few morning exercises.

Prizes, games, and free products (while supplies last) will be part of the fun courtesy of these exclusive sponsors: DCU: Digital Federal Credit Union, Fresh Communications, Hood, Massachusetts Seafood, Table Talk Pies, Toyota, NEWPRO, Canobie Lake Park, Lamacchia Realty, Dunkin' Donuts, Mass State Lottery, Must Be the Milk, Planet Fitness, Polar Beverages, Teddie Peanut Butter, Steamship Authority, Tufts Floating Hospital for Children, and Planet Fitness.
Can't make it? Be sure to tune in. On Twitter? Follow @DCUZipTrips.
Hope you can join us at a Zip Trip this Summer!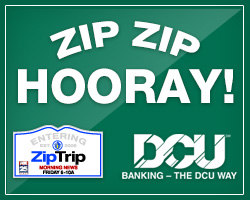 A note about third-party links – By selecting certain links on this page, you will leave DCU's web site and enter a web site hosted by an organization separate from DCU. We encourage you to read and evaluate the privacy policy of any site you visit when you enter the site. While we strive to only link you to companies and organizations that we feel offer useful information, DCU does not directly support nor guarantee claims made by these sites.