Savings Account
Convenience and competitive returns without the fees
---
Features
Details
Rates
Reviews
Open Now
Resources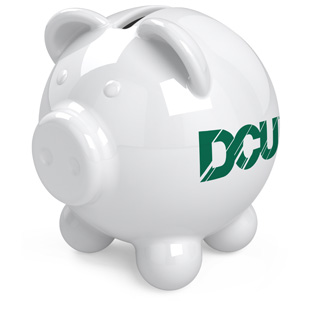 Statement Savings Account
Competitive dividend rates
Worldwide ATM Access
$5 minimum to open
Free online, mobile, and branch access
Acts as overdraft protection
One Included with each additional DCU membership*
Federally insured to $250,000 by NCUA
*Your first membership includes a Primary Savings Account.
Please refer to Details and Rates tabs for additional information and important disclosures.
"Good Service, Best Rates"

I first found out about DCU from our Realtor/Loan officer. They told me that DCU is known for good service and the best rates available for line of credit & other products. I haven't been disappointed!

— Sam, Corona, CA
Savings Account Details
Competitive dividend rates – Earn rates typically higher than those paid by commercial banks on statement savings and passbook accounts. Dividends are compounded daily and paid monthly. There are no monthly fees.
Worldwide ATM access – Both your DCU Savings Account and your DCU Checking Account are accessible for withdrawals, inquiries, and sometimes deposits at virtually every non-DCU ATM.
$5 minimum to open
Free online, mobile, and branch access – You can access your account 24 hours a day using any DCU ATM, Online Banking, and Easy Touch Telephone Teller. You can access your account in any DCU branch and make deposits online anytime with a scanner or camera in your smart phone by Online Deposit.
Acts as overdraft protection on your DCU Checking – You can choose to have any overdrafts covered by your Savings Account provided there is sufficient balance and the Regulation D transfer limit has not been exceeded.
Included with DCU membership – One Savings Account per membership for second and subsequent memberships. First membership receives a Primary Savings Account. Your first $5 of balance signifies your ownership of DCU, a member-owned not-for-profit consumer cooperative. As long as you maintain at least $5.00 in this account, you'll be a DCU member.
Federally insured to $250,000 by NCUA – Learn more about insurance on all your savings at DCU and how to maximize your coverage.
Savings Accounts*
| Account / Minimum / Terms | Dividend Rate | Annual Percentage Yield |
| --- | --- | --- |
| Savings Account - Minimum $5 balance | 0.25% | 0.25% |
Rates are effective .
*One Savings Account per membership after first membership. Rates may change after the account is opened and are subject to change weekly. Funds earn dividends from the first business day of deposit and are compounded daily and posted monthly. Accrued dividends are forfeited if account is closed prior to monthly dividend posting. Fees or other conditions may reduce earnings on these accounts. Refer to DCU's Truth-in-Savings Disclosures and Account Agreements and Schedule of Fees and Service Charges.
Annual Percentage Yield (APY) is a figure calculated using a federally-mandated formula. It's designed to help you compare the return you'll get in a uniform way between the certificate, savings, and money market accounts offered at various institutions. It tells you at what percentage your money will grow in one year at the same dividend rate – including the effects of compounding. For example, the APY on a 6-Month Certificate would be what you earned at the end of a year if you renewed your certificate once, did not add to or subtract from the balance along the way, nor withdrew any dividends.
[an error occurred while processing this directive]
---
I just want a checking account no saving please
I got the wrong button I just want the checking account no saving please. To
The Primary Savings Account is required to have a DCU Membership. The minimum balance is only $5 and there are no monthly or annual fees charged.
Date published: 2018-03-31
---
"Simple, Fast and Easy"

Opening an account was very fast and easy. Accessing my account is simple with online access, and nearby branches and ATMS. And I love the $5 minimum balance.

— KP09 , Leominster, MA
Easy Ways To Open a Savings Account
Apply Online – Opening a DCU Savings Account is fast and convenient! Follow the simple step-by-step instructions and open your account in minutes online.
By Phone – Call 800.328.8797 or 508.263.6700, (select 3).
Visit a DCU Branch – Visit a local branch and open a savings account. A Member Service Representative will assist you and be able to answer all your questions.
"I love my new Savings Account!"

Easy to open, friendly service – I'm happy I made the switch to DCU!

— Jules, Bolton, MA