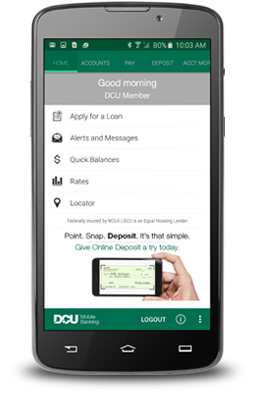 Updated Android App Now Available
We've updated the look and feel of our app for Android and improved the navigation and experience. Most notably, we've consolided all payment options into the Pay menu, added the ability to open new accounts, and streamlined mobile check deposit.

Note: Requires Kit Kat 4.0 or above.
Learn more about what's new in this update.
Do Your Banking, Anytime, Anywhere.
DCU's Mobile Banking App gives you quick, convenient access to most Online Banking features from nearly anywhere!
Secure Transactions
DCU Security Assurance includes a secure login, member number and password privacy, data encryption using HTTPS/SSL, and session timeout configured to 20 minutes - so you can use the app knowing that all of your information is secure.
Get Started Now!
Download the app from Google Play. Upon launching the app, touch "LOGIN" located at the bottom of the screen. Your login credentials are the same as your current username and password for Online Banking. Once logged in, you can access many features by using the tabs located at the top of the screen. (see below)
Select any of the icons to learn more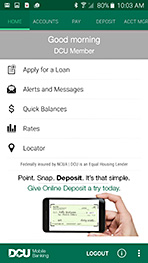 Home
Login/Logout – Log into or out of your accounts by tapping the link located at the bottom of the screen.
Apply for a Loan – Apply for a vehicle loan or credit card.
Alerts and Messages – read important communications regarding your DCU accounts.
Quick Balances – view your account balances without having to login.
Rates – view our current rates on all our products for comparison shopping
Locator – find the nearest branch, ATM, or shared branch.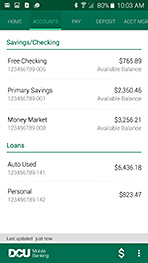 Accounts
Accounts Overview – Touch Accounts to bring up a list of all your DCU accounts with their current balance information.
Transfers – Located in the lower-right corner of the Accounts screen, touch the money icon to quickly and easily transfer money between your DCU accounts.
Account Details – Touch any account to view your available balance, any pending transactions, completed transactions or to transfer funds.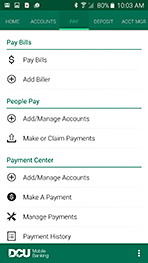 Pay
The Pay page offers payment solutions for many everyday expenses such as household bills, paying your friends, or paying a DCU loan from an external account.
Pay Bills – Pay or manage your monthly bills
People Pay – Pay your friends quickly and safely
Payment Center – Make a DCU loan payment from an account at another institution.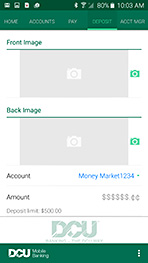 Deposit
Deposit checks* on your schedule – No need to go to a branch or ATM. Online deposit never closes.
Easier than ever – Simply follow the directions on your device. Use the camera to take a picture of the front and back of your check to send and receive verification of your deposit.
*Upon approval.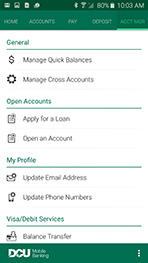 Account Manager
Account Manager gives you access to many helpful DCU services right from your phone.
Manage Quick Balances – Set up a quick balance so you can view your account balance without having to log into the app.
Member to Member – Transfer money to other DCU members.
Apply for a Loan – Apply for a DCU vehicle loan or credit card.
Open an Account – Open a DCU account.
Update Email Address and Phone Numbers – Update your information whenever it changes.
Balance Transfer – Transfer high rate balances to your DCU credit card.
Travel Notifications – Let us know when you travel in advance to prevent blocking or denying your transactions for security purposes.