FinanceWorks™
Manage your money quicker, easier, and smarter
About FinanceWorks
FinanceWorks is an easy to use tool designed to help you manage your everyday finances all from within Online Banking. FinanceWorks gives a complete picture of all of your financial accounts across nearly 16,000 institutions and creditors helping you more clearly see where you are spending your money so you can find ways to save, manage all your bills in one place, and know how much money you really have to spend.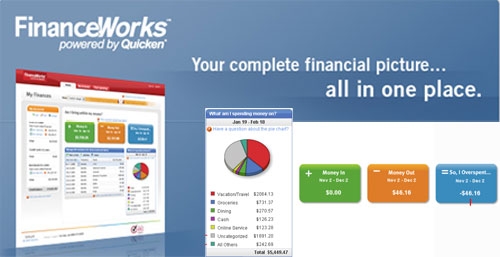 The Benefits of FinanceWorks
Now you have the option of managing all of your accounts in one place with just one login! Below are some of the many great benefits you will enjoy...
Free to all DCU members!
Available 24 hours a day
See if you live within your means
Set up a budget
Understand your spending habits
Avoid being overdrawn
Track your RealBalance – cleared transactions plus upcoming transactions so you know what you have
Manage bills all in one place, regardless of how you pay them, and avoid late fees
Access TurboTax for Online Banking during the tax season
Tax Reporting leverages auto categorization
Includes bill reminders and email alerts
Helps categorize our transactions
Projects "What's Left" to help make managing cash flow easier
Aggregation gives users access to data from 16,000 external financial institutions
Gives direct access to bill payment from within FinanceWorks
Sign Up
Take control of your finances today!
FinanceWorks is available from within Online Banking. Just login with your member number and password and select the FinanceWorks tab or the "Manage your finances" link to begin using it. Once you get to the home page, add as many of your bank accounts as you can to get the most accurate information regarding your finances. Just select "Add from the My Accounts list" to begin.
FinanceWorks Support
For more details on the benefits of FinanceWorks and how to use it, contact us for assistance:
Online Support – Our E-Branch support team answers virtually all email we receive in 24 hours or less. LiveHelp is also available from Online Banking during normal LiveHelp hours.
Telephone Support – Our Information Center can also answer your questions. Call 508.263.6700 or 800.328.8797 weekdays from 8:00 a.m. to 9:00 p.m. and Saturdays from 9:00 a.m. to 3:00 p.m., Eastern time.