Viewing Your Application Status
You can now view the status of your mortgage application online anytime. The loan status is updated throughout the processing of the loan and as items are completed or changed.
Once you apply, you will be able to view your status at any time. The self service tool is located in your Account Manager section on dcu.org. Simply log into dcu.org and click on Account Manager. On the left hand side choose New Loan Status.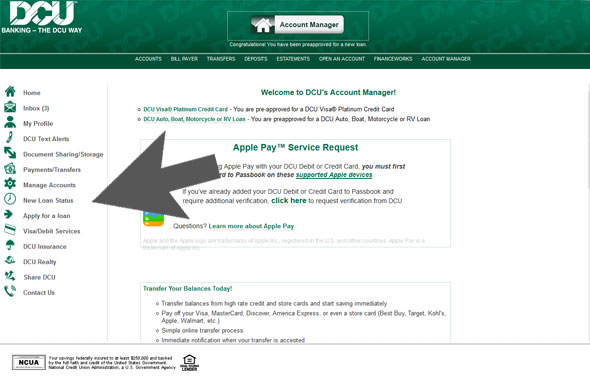 Once you've logged in, you'll see the following sections:
Loan Status
Loan Terms
Items needed from you
Estimated Monthly Payment
The Appraisal
Other Important Dates
The Loan Closing
Contact Information
What does my status mean?
Loan Status
Until the loan has been approved the status will show as "APPLICATION IN PROCESS." The status will changed to "APPROVED" once the file has been approved.
Loan Terms
In the Loan Terms section, the Product Type, Loan Amount, Loan Term, Rate Lock Status, Lock Expiration Date, Purpose of Loan, Interest Rate & Points will display.
Items Needed from You
The Items Needed from You section will review any documents needed as a condition of the loan. If a document is marked with an "X," this indicates that the item is required at closing. It will display the date the items were requested and the date the Mortgage Representative has received the documents.
Estimated Monthly Payment
In this section, a breakdown of the estimated monthly payment, including the Principal and Interest, Mortgage Insurance Premium, and Monthly Escrow Payment will be shown.
The Appraisal
Under the Appraisal section, information regarding the completed appraisal will be found. It will include the name of the Assigned Appraiser, the Appraisal Order Date, the Appraisal Received Date and the Appraisal Value. Once the appraisal has been received and approved by an underwriter the Mortgage Representative will upload the report for you to access.
Other Important Dates
In the Other Important Dates section you'll find any other important dates regarding the application. Here you will see the dates the title insurance was ordered and received.
The Loan Closing
In the Loan Closing section, we will provide an explanation of the closing process, estimated closing date, the time of the closing and the Attorney or Title Company executing the closing.
Contact Information
Here the you'll see the name and direct contact information of the Mortgage Representative assigned to your loan.