DCU Visa® Platinum Rewards Credit Card
Shop for the things you need and earn the things you want
---
Features
Details
Rates
Reviews
Apply Now
Resources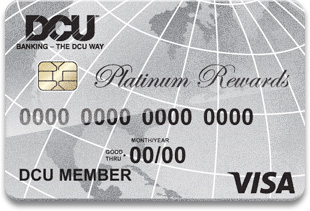 DCU Visa Platinum Rewards Credit Card Features
Earn points on every purchase
Redeem for travel, merchandise, gift cards, and more
Low Interest Rates
No Annual Fee*
No Fees or Higher Rates for Cash Advances and Balance Transfers
Insurance, car rental, travel, and warranty benefits
Optional Overdraft Protection on your DCU Checking
Buy online easily and safely with Visa Checkout
*APR=Annual Percentage Rate. APR as of is as low as 11.25%. Your APR will be based on your personal credit history. Rates are variable, tied to the Prime Rate, and can change monthly. 2% foreign transaction fee applies. For more information refer to DCU's VISA Credit Card Agreement and Federal Truth-in-Lending Disclosure Statement.
---
A note about third-party links – By selecting certain links on this page, you will leave DCU's web site and enter a web site hosted by an organization separate from DCU. We encourage you to read and evaluate the privacy policy of any site you visit when you enter the site. While we strive to only link you to companies and organizations that we feel offer useful information, DCU does not directly support nor guarantee claims made by these sites.
"Lots Of Perks!"

The DCU Rewards VISA is an excellent card with a low rate and lots of great rewards and features! No Annual fee either!!

— Courtney, Worcester, MA
DCU Visa Platinum Rewards Credit Card Details
Shop for the things you need and earn the things you want...
Earn everyday points – Use your DCU Visa Platinum Rewards for everyday purchases and earn points toward hundreds of rewards. You will earn 1 point for every $1 spent. It's that easy!

Earn bonus points – Two ways to earn using your DCU Visa Platinum Rewards...

Shop our Perks Points Mall – Shop our online network of top national and regional merchants through the Perks Points Mall. You can browse through hundreds of popular online merchants. You will earn an additional 5 bonus points for every $1 spent for all transactions using your DCU Visa Platinum Rewards.
Shop our More Points online store – More Points rewards you with incredible savings and 3 extra points for each $1 you spend using your rewards card on the More Points site.

Log into DCUrewards.com and select "Perks" from the top menu bar to get started today.

Redeem your points – You can redeem your point for hundreds of rewards including gift cards, merchandise, travel, experiences, green products, and charitable donations. Visit DCUrewards.com to redeem or call 800.657.8156 seven days a week, 24 hours a day.
Enjoy Your Points Sooner – Points are credited to your account once a day, so you can enjoy your rewards faster.
See Your Point Balance Anytime – Just log into DCUrewards.com.
DCU Visa Platinum Rewards Credit Card Benefits
Low Everyday Rates – Save over other bank and store cards with a rate well below the national average. Transfer your higher interest credit card balances to your DCU Visa Credit Card and start saving immediately.
No Annual Fee* – Save up to $45 over other credit cards.
No Fee or Higher Rate for Cash Advances – Cash advances are free! Get advances 24-hours a day from any ATM displaying the Visa logo or by calling DCU or through Online Banking. Easily transfer money to any of your DCU Savings or Checking accounts or have a check mailed to you. Plus, we offer cash advances up to $200 per day at participating hotels.**
No Fee or Higher Rate for Balance Transfers – Balance transfers from other credit cards to your DCU Visa Platinum Credit Card are free. You can also make transfers through DCU Online Banking, Mobile Banking, ATMs, Easy Touch Telephone Teller System, the Information Center, or at any DCU branch.
Free Auto Rental Collision Damage Waiver – You're covered for collision damage or theft on auto rentals.
Optional Overdraft Protection On Your DCU Checking – Overdrafts are automatically charged to your DCU Visa Platinum Credit Card up to your credit limit when you choose this option.
Extensive Visa Travel Services – Receive free $500,000 Travel Insurance Coverage when you charge tickets on any carrier (airline, train, ship, or bus), you're automatically covered. Plus, you're assured your room remains available if you arrive late at participating hotels, motels, and resorts.**
Extended Warranty On Most Purchases – Extends the warranty on most purchases made with your DCU Visa Platinum Credit Card.**
Buy online easily and safely with Visa Checkout – Learn more
Great for Students, Too
The DCU Visa Platinum is the perfect card for college students. Online access is easy when you're away from home through Online Banking and it is safer than cash.
If your own financial situation doesn't allow you to qualify for a card on your own (based on your credit history, income, and expenses), you'll need to have an adult co-borrower who does qualify – most often a parent. That offers four advantages:
It allows you to begin building your own credit history
May qualify you for a higher credit limit
It can result in a lower interest rate since your rate will be determined by the best personal credit history among your co-borrowers
Your co-borrowers can access the account through Online Banking and can easily help make payments by online transfer from their own DCU accounts
Visa Additional Federal Disclosure Table
---
Interest Rates and Interest Charges
Annual Percentage Rate (APR) for Purchases, Balance Transfers, and Cash Advances:
11.25%
to
18.00%
when you open your account, based on your creditworthiness. After that, your APR will vary with the market based on the
Prime Rate
.*
Penalty APR (Delinquency) and When it Applies:
18.00%
This APR may be applied to your account if you make a late payment.
How Long Will the Penalty APR Apply?
If your APR is increased for this reason, the Penalty APR will apply until you make six consecutive payments (minimum or higher) when due, beginning with the first payment due following the effective date of the change.
How to Avoid Paying Interest on Purchases:
Your due date is approximately 25 days after the close of each billing cycle. We will not charge you interest on purchases if you pay your entire balance by the due date each month.
Minimum Interest Charge:
None
Minimum Payment Due:
This figure will be reflected on your statements and will be either: (a) 1.75% of your Ending Statement Balance, rounded to the nearest dollar, or $25, whichever is greater, or (b) your Payoff Amount if less than $25.
For Credit Card Tips from the
Federal Reserve Board:
---
Fees
Minimum Finance Charges
Balance Transfer:
Cash Advance:
Foreign Currency Transaction:
None
None
Conversion Fee: 2%. Conveyance in US Funds Fee (no conversion necessary) 0.80%.
Penalty Fees
Late Payment:
Overlimit:
Up to $35 per occurrence
None
---
How We Will Calculate Your Balance:
We use a method called "average daily balance (including new purchases)."
* The Prime Rate used to determine your APR is the Prime Rate as published in the Wall Street Journal at the end of the month immediately preceding the start of each billing cycle.
---
A note about third-party links – By selecting certain links on this page, you will leave DCU's web site and enter a web site hosted by an organization separate from DCU. We encourage you to read and evaluate the privacy policy of any site you visit when you enter the site. While we strive to only link you to companies and organizations that we feel offer useful information, DCU does not directly support nor guarantee claims made by these sites.
"Great Reward Features"

Points for purchases, me paying on time with no interest charge, PRICELESS!

— Gale215, Westford, MA
Easy Ways To Apply Today
Before you apply, please refer to the Details tab for important information.
Apply Online – Most members get an answer on their application while still online.
Apply by Phone – Apply 24 hours a day by phone 508.263.6700 or 800.328.8797, (select 3).
Any DCU Branch – Visit your local branch to open a Visa Platinum Rewards Card today.
We're Here To Help!
If you have any questions, please speak with a Member Service Representative at your nearest DCU branch or call our Information Center at 800.328.8797, weekdays from 8:00 a.m. to 9:00 p.m., and Saturdays 9:00 a.m. to 3:00 p.m., Eastern time.
"Rewards!"

This rewards option has so many treats. Another good way to earn gifts and keep up a good credit.

— Nate45di, Worcester, MA
Related Links
For Your Protection
Loan Disclosure
Visa Credit Card Disclosure (.pdf format, 6 pages) – This covers rates, terms, and conditions related to DCU's Visa credit card programs.