DCU Visa® Platinum Rewards Credit Card
Shop for the things you need and earn the things you want
---
Features
Details
Rates
Reviews
Apply Now
Resources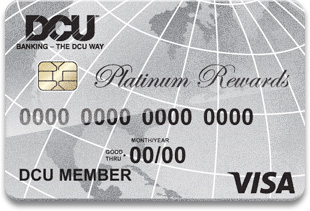 DCU Visa Platinum Rewards Credit Card Features
Earn points on every purchase
Redeem for travel, merchandise, gift cards, and more
Low Interest Rates
No Annual Fee
No Fees or Higher Rates for Cash Advances and Balance Transfers
Works with Apple Pay®, Google Pay™, and Samsung Pay
Insurance, car rental, travel, and warranty benefits
Optional Overdraft Protection on your DCU Checking
Buy online easily and safely with Visa Checkout
Embedded EMV chip to protect your card information
Please refer to Details and Rates tabs for additional information and important disclosures.
For more information refer to DCU's VISA Credit Card Agreement and Federal Truth-in-Lending Disclosure Statement.
Apple, and Apple Pay are trademarks of Apple Inc., registered in the U.S. and other countries.
Google and Google Pay are trademarks of Google Inc.
Samsung, and Samsung Pay are registered trademarks of Samsung Electronics Co., Ltd.
"Lots Of Perks!"

The DCU Rewards VISA is an excellent card with a low rate and lots of great rewards and features! No Annual fee either!!

— Courtney, Worcester, MA
DCU Visa Platinum Rewards Credit Card Details
Shop for the things you need and earn the things you want...
Earn everyday points – Use your DCU Visa Platinum Rewards for everyday purchases and earn points toward hundreds of rewards. You will earn 1 point for every $1 spent. It's that easy!

Earn bonus points – Two ways to earn using your DCU Visa Platinum Rewards...

Shop our Perks Points Mall – Shop our online network of top national and regional merchants through the Perks Points Mall. You can browse through hundreds of popular online merchants. You will earn an additional 5 bonus points for every $1 spent for all transactions using your DCU Visa Platinum Rewards.
Shop our More Points online store – More Points rewards you with incredible savings and 3 extra points for each $1 you spend using your rewards card on the More Points site.

Log into DCUrewards.com and select "Perks" from the top menu bar to get started today.

Redeem your points – You can redeem your point for hundreds of rewards including gift cards, merchandise, travel, experiences, green products, and charitable donations. Visit DCUrewards.com to redeem or call 800.657.8156 seven days a week, 24 hours a day.
Enjoy Your Points Sooner – Points are credited to your account once a day, so you can enjoy your rewards faster.
See Your Point Balance Anytime – Just log into DCUrewards.com.
DCU Visa Platinum Rewards Credit Card Benefits
Low Everyday Rates – Save over other bank and store cards with a rate well below the national average. Transfer your higher interest credit card balances to your DCU Visa Credit Card and start saving immediately.
No Annual Fee – Save up to $45 over other credit cards.
No Fee or Higher Rate for Cash Advances – Cash advances are free! Get advances 24-hours a day from any ATM displaying the Visa logo or by calling DCU or through Online Banking. Easily transfer money to any of your DCU Savings or Checking accounts or have a check mailed to you. Plus, we offer cash advances up to $200 per day at participating hotels.**
No Fee or Higher Rate for Balance Transfers – Balance transfers from other credit cards to your DCU Visa Platinum Credit Card are free. You can also make transfers through DCU Online Banking, Mobile Banking, ATMs, Easy Touch Telephone Teller System, the Information Center, or at any DCU branch.
Compatible with Apple Pay, Google Pay, and Samsung Pay – Enjoy all the benefits of your DCU Visa Platinum Card using your mobile device to pay at millions of stores and within apps. Learn More
Free Auto Rental Collision Damage Waiver – You're covered for collision damage or theft on auto rentals.
Optional Overdraft Protection On Your DCU Checking – Overdrafts are automatically charged to your DCU Visa Platinum Credit Card up to your credit limit when you choose this option.
Extensive Visa Travel Services – Receive free $500,000 Travel Insurance Coverage when you charge tickets on any carrier (airline, train, ship, or bus), you're automatically covered. Plus, you're assured your room remains available if you arrive late at participating hotels, motels, and resorts.**
Extended Warranty On Most Purchases – Extends the warranty on most purchases made with your DCU Visa Platinum Credit Card.**
Buy online easily and safely with Visa Checkout – Learn more
Embedded EMV chip to protect your information – DCU Visa® Platinum Rewards Credit Cards now come with chip technology built right in. This tiny chip protects your information in a big way.
Great for Students, Too
The DCU Visa Platinum is the perfect card for college students. Online access is easy when you're away from home through Online Banking and it is safer than cash.
If your own financial situation doesn't allow you to qualify for a card on your own (based on your credit history, income, and expenses), you'll need to have an adult co-borrower who does qualify – most often a parent. That offers four advantages:
It allows you to begin building your own credit history
May qualify you for a higher credit limit
It can result in a lower interest rate since your rate will be determined by the best personal credit history among your co-borrowers
Your co-borrowers can access the account through Online Banking and can easily help make payments by online transfer from their own DCU accounts
Additional Federal Disclosure Table
---
Additional Federal Disclosure Table
Annual Percentage Rate (APR) for Purchases, Balance Transfers, and Cash Advances
DCU VISA

10.25%

to

18.00%

when you open your account, based on your credit-worthiness. After that, your APR will vary with the market based on Prime Rate*.
DCU Rewards VISA

13.00%

to

18.00%

when you open your account, based on your credit-worthiness. After that, your APR will vary with the market based on Prime Rate*.
DCU Secured VISA

13.25%

. After that, your APR will vary with the market based on Prime Rate*.
Penalty APR (Delinquency) and When it Applies

18.00%


This APR may be applied to your account if you make a late payment.
How Long Will the Penalty APR Apply?
If your APR is increased for this reason, the Penalty APR will apply until you have made six consecutive payments (minimum or higher) when due, beginning with the first payment due following the effective date of the change.
How to Avoid Paying Interest on Purchases
Your due date is approximately 25 days after the close of each billing cycle. We will not charge you interest on purchases if you pay your entire balance by the due date each month.
Minimum Interest Charge
NONE
For Credit Card Tips from the Consumer Financial Protection Bureau
To learn more about factors to consider when applying for or using a credit card, visit the web site of the Consumer Financial Protection Bureau at:
consumerfinance.gov/learnmore/.
Fees
Annual Fee
NONE
Transaction Fees:


Balance Transfer

Cash Advance

Foreign Currency Transaction



Penalty Fees:




Up to $35.00 per occurrence
NONE
How We Will Calculate Your Balance: We use a method called "average daily balance (including new purchases)".
* The Prime Rate used to determine your APR is the Prime Rate as published in the Wall Street Journal at the end of the month immediately preceding the start of each billing cycle.
Rates are effective .
DCU Visa Platinum Rewards
is rated out of
5
by
107
.
Rated

5

out of

5
by
MMW
from
Easiest process to apply for card
We applied over the phone and got an approval while we waited. Entire process took about 15 minutes. I appreciated that DCU requires the co-applicant to be present understanding that this cuts down on fraudulent applications.
Date published: 2018-06-09
Rated

5

out of

5
by
Tommie83
from
Seamless user friendliness in the process
Good features on the product very easy application process also approved for personal loan then denied by the rep for no valid reason very low dti ratio and 740 + credit score a valid explanation would've been nice rather cold response
Date published: 2018-04-07
Rated

5

out of

5
by
Teach
from
Great so far
I just got the card, so I can't really say much else about it except it was very easy to apply, has a quite reasonable rate and was approved quickly. If the card is as good as all of DCU's other services, I know I will love it. Thank you, DCU!
Date published: 2017-12-03
Rated

5

out of

5
by
Willie T
from
I love it
Great REWARDS!!! Staff was extremely helpful, nice experience
Date published: 2017-11-25
Rated

5

out of

5
by
Perkenson
from
I don't have world to explain
For me DCU is the best one, thank you for you service DCU you make my life better right now, thanks.
Date published: 2017-10-21
Rated

5

out of

5
by
Matt
from
Good card and even better service!
Good rewards structure, great APR rate and site is easy to navigate to manage your card and other accounts. The free Equifax FICO score every month is a nice bonus to have as well. The approval process was very straight forward and Emily went above and beyond to answer all my questions this week. Outstanding service! Two thumbs up for DCU.
Date published: 2017-09-16
Rated

5

out of

5
by
Cynthia
from
Great product
The process to get this card was simple and the benefits are great.
Date published: 2017-09-03
Rated

5

out of

5
by
NARENDRA
from
Awesome service from DCU
Dcu support was helpful in making choice for reward card....
Date published: 2017-08-14
---
What happened to any points that DCU credit card holders had with the old Scorecard rewards program?
I'll admit that I rarely used them, preferring to let them build up for a big purchase. But when I went to check on them several months ago, I noticed that there was now a special card that earned rewards points. It seems like the standard card no longer earns points with purchases.
I checked with DCU and apparently, they discontinued this program in 2010 but the points can be transferred if you hold a DCU Rewards Platinum Visa. You will need to switch your existing card into that card and then transfer the points to that.
Date published: 2013-10-23
Can I get a cash advance from my DCU Visa Credit Card at an ATM?
yes
Date published: 2014-07-22
Where can I find the reward points for my DCU Visa Card
https://www.dreampoints.com/dcurewards/ You will have to register separately for this.
Date published: 2015-02-21
How long do I have to dispute a DCU Visa Credit or Check Card transaction?
Transactions can be disputed 60 days from the date of the statement that shows the transaction in question. The dispute can be submitted in PC Branch under the "Forms/Services" link.
Date published: 2013-10-23
How do I add an authorized user to my DCU Visa Credit Card?
You can add an authorized user to your DCU Visa Credit Card account with our Authorized User Form.
Date published: 2013-10-23
---
"Great Reward Features"

Points for purchases, me paying on time with no interest charge, PRICELESS!

— Gale215, Westford, MA
Easy Ways To Apply Today
Before you apply, please refer to the Details tab for important information.
Apply Online – Most members get an answer on their application while still online.
Apply by Phone – Apply 24 hours a day by phone 508.263.6700 or 800.328.8797, (select 3).
Any DCU Branch – Visit your local branch to open a Visa Platinum Rewards Card today.
We're Here To Help!
If you have any questions, please speak with a Member Service Representative at your nearest DCU branch or call our Information Center at 800.328.8797, weekdays from 8:00 a.m. to 9:00 p.m., and Saturdays 9:00 a.m. to 3:00 p.m., Eastern time.
"Rewards!"

This rewards option has so many treats. Another good way to earn gifts and keep up a good credit.

— Nate45di, Worcester, MA
Related Links
For Your Protection
Loan Disclosure
Visa Credit Card Disclosure (.pdf format, 6 pages) – This covers rates, terms, and conditions related to DCU's Visa credit card programs.