Loans for Large Recreational Vehicles
Financing fun times for you and your family
---
Features
Details
Rates
Reviews
Apply Now
Resources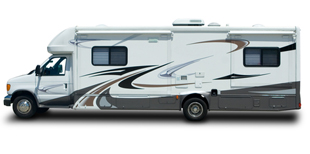 Large RV Loan Benefits
Borrow for motor homes, travel trailers, camping trailers
Same low rates on new and used
Purchase or refinance with affordable monthly payments
Borrow up to 90% of purchase price
Save with Relationship benefits and electronic payment
Please refer to Details and Rates tabs for additional information and important disclosures.
"Easy Loan Process"

The loan process was quick and painless and I feel like we got a really competitive rate. I'd recommend DCU for any of their loan products.

— Jprv, Marlborough, MA
Large RV Loan Benefit Details
Finance motor homes, travel trailers, or camping trailers
New or used RVs – with same low fixed rates.
Borrow up to 90% of purchase price – or NADA book value (whichever is less).
For purchases and refinancing – Have an existing loan elsewhere? Move it here and save.
Terms up to 20 years on new RVs – and 10 years on used. That helps keep payments affordable on larger purchases.
Save with Relationship benefits and electronic payment – Save on rates when you qualify for Relationship benefits on your DCU Checking Account and make payments electronically (payment by transfer in Online Banking, Mobile Banking, Easy Touch Telephone Teller, DCU ATM, or internal DCU automatic transfers. Add 0.50% to rate for other payment methods.
Interest may be tax deductible – RVs with a bathroom, kitchen, and sleeping area are considered a home under IRS rules. Interest on loans to finance them may be deductible on your federal taxes. Visit the IRS web site (irs.gov) for details.
Large RV Loan Financing Rates*
For New or Used Motor Homes, Travel Trailers, Camping Trailers
Qualified borrowers can finance up to 90% of NADA retail book value or 90% of the purchase price, whichever is less.
Our Best Rates*
Terms / Features
Annual Percentage Rate
Estimated Monthly Payment
per $1,000
Up to 60 months
Minimum Loan Amount $5,000
6.49%
$19.56
Up to 72 months
Minimum Loan Amount $15,000
6.99%
$17.04
Up to 84 months
Minimum Loan Amount $15,000
7.49%
$15.33
Up to 120 months
Minimum Loan Amount $25,000
7.99%
$12.13
Up to 180 months
Minimum Loan A Mount $50,000
7.99%
$9.55
Up to 240 months
Minimum Loan Amount $75,000
7.99%
$8.36
Rates are effective .
*Rates are determined by your personal credit history, account relationship, and payment method.
Large Recreational Vehicle Loans
is rated out of
5
by
20
.
Rated

5

out of

5
by
Tanya324
from
excellent service again
Jill was able to get our loan set up quickly and without any issues. Great customer service.
Date published: 2017-12-13
Rated

5

out of

5
by
Paul54
from
Outstanding service from DCU once again
Applied on line, approved online, money transferred to Dealership by 10 am. What more can I say?
Date published: 2017-11-15
Rated

5

out of

5
by
sunny
from
Great Service and fast results
Great Service and fast results and best rates i will recommend to everyone
Date published: 2017-10-28
Rated

5

out of

5
by
Happy Camper
from
Great service!
Customer service is outstanding. I had a check for my RV loan in my hand within 48 hours. Unbelievable!
Date published: 2017-06-24
Rated

5

out of

5
by
ribs81
from
This product has great features
I was happy with the customer service and interest rates. I would recommend DCU to anyone looking for a credit union to bank with.
Date published: 2016-11-05
Rated

5

out of

5
by
Frost
from
Excellent internet options on loans
I have continued using DCU even though I moved over 3 hours away from there closest branch. With there great rates and excellent customer service we get all my financial needs done by Internet,phone and mail.
Date published: 2016-02-27
Rated

5

out of

5
by
Morepower
from
Very easy and quick process
DCU customer agents were very professional and easy to work with to get the loan done. Excellent service!
Date published: 2015-06-13
Rated

5

out of

5
by
shamrock21ss
from
Process for applying andgetting laon easy
Great process. Able to do everything over the phone or online.
Date published: 2015-04-13
---
on an rv loan forr $27000 what would be the max term in months available and best interest rate for that term.
I think max is 72 months and depend on your credit i got 30k for 6.74%
Date published: 2017-12-30
Can you get pre approved before finding a suitable camper?
yes you can get preapproved
Date published: 2017-12-30
What Is the maximum age that you will finance
What is the maximum age of vehicle (RV) you will finance and the term and LTV that is allowed?
The vehicle age can vary, as long as, the value of the vehicle is more than the loan amount being requested. If there are concerns, you may be required to obtain an appraisal at your expense.
Date published: 2014-09-06
What is the Loan Term for an RV that is 25 years old ?
Can you please give a table of loan terms of RV 10, 15, 20, 25 years old
The age of the Recreational Vehicle would only be considered in regards to determining the current value. We will finance a vehicle that is over 12 years old, depending on the member's relationship with DCU and credit history. Term lengths will depend on the amount being borrowed and are as follows: •$5K for 60 Months •$10K for 84 Months •$25K for 144 Months •$50K for 180 Months •$75K for 240 Months
Date published: 2016-06-11
Tiny home
Do you offer financing/mortgage for a tiny home? They cost anywhere between $20,000 to $81,000...
To be eligible for a Mortgage for a Tiny Home we would require that it fall under our Manufactured Housing Loan criteria. The general requirements are as follows but not limited to: Minimum loan amount is $50,000, home must be permanently attached to a foundation, you must own the land the home sits on, and the home must be permanently attached to utilities. For more detailed information if you would qualify for a Mortgage or other type of loan for this property we recommend that you contact a Loan Specialist. They can be reached by phone at (800) 328-8797 option 3.
Date published: 2017-12-09
---
"THANK YOU"

Everyone was very helpful. You have helped us more than you know by allowing us to have a payment that we can afford. Thank you DCU!.

— MINNERHEAD1 , Lebanon, MO
Easy Ways to Apply for a Large RV Loan
Apply Online – 24 hours a day, 7 days a week.
Apply by phone – 24 hours a day, 7 days a week call 800.328.8797 or 508.263.6700 and press 3.
Any DCU Branch – Visit your local branch.
"Easy Process"

Our application was processed quickly and without any problems. That alone makes dealing with DCU a pleasure.

— Anu, Raymond, NH
Large RV Loan Resources
Large RV Loan Related Links