VA Mortgages
Program for qualified U.S. Veterans, Reservists, and National Guard
---
Features
Details
Rates
Reviews
Apply Now
Resources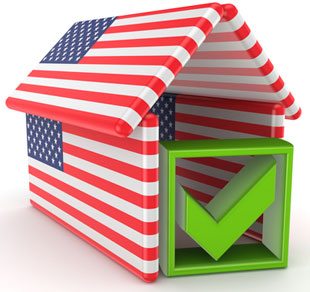 VA Mortgage Features
For eligible US veterans, reservists, and National Guard
Same rate and payment for the life of your loan
Competitive rate
Up to 30 year term
Loans up to 100% of appraised value with no points
DCU service for the life of your loan
For home purchase
Borrow for 1 to 4 family primary residences
Can use to finance condominiums and townhouses
Please refer to Details and Rates tabs for additional information and important disclosures.
"Very Satisfied"

I do love the services I have used at DCU and have suggested their use many times over to folks looking to move from a traditional bank.

— Mike, Bedford, MA
VA Mortgage Benefit Details
What is a VA Mortgage? – A VA Mortgage is a home loan, provided by a mortgage lender, guaranteed by the U.S. Department of Veterans Affairs. This program helps veterans obtain mortgages by protecting the lender against loss. If a veteran qualifies, they can obtain a mortgage guaranteed to a maximum of $453,100, based on the appraised value of the property, with no down payment.
What are the benefits of a VA Mortgage? – For qualified borrowers, a VA Mortgage will allow you to borrow for the full value of the home with no down payment. While the veteran will pay closing costs, these costs are held to reasonable and customary amounts by regulation.
What are the disadvantages of a VA Mortgage? – Because there is no down payment required, the rate on these mortgages tends to be higher than conventional mortgages made with a down payment. Because the federal government is involved, there is more paperwork for you to fill out (more than that required for an ordinary mortgage). In addition, you may not have as many mortgage product options within the VA loan guarantee.
Who can obtain a VA Mortgage? – The Veterans Administration will guarantee a no down payment, 100% financing mortgage on a home if you are in one of the following classes:

An eligible veteran of the US Army, Navy, Air Force, Marines, or Coast Guard
An eligible reservist of the above or a member of the Army National Guard or Air National Guard
An unmarried spouse of a deceased veteran
An eligible individual with service in certain organizations such as midshipmen and cadets at service academies, officers of the National Oceanic and Atmospheric Administration, officers of the Public Health Service among others
Qualified individuals who are purchasing a VA foreclosed home
Visit the U.S. Department of Veterans Affairs web site for more on VA Loan eligibility requirements and required forms.
VA Mortgage Features at DCU
Same rate and monthly payment for the life of your loan
Competitive rate
Up to 30 year term – A longer term helps keep monthly payments more affordable. A shorter term saves you interest and builds equity faster.
Loans up to 100% of appraised value with no points
DCU service for the life of your mortgage – We'll handle all your payments, escrow, and questions. You'll have access to your mortgage account through Online Banking, Easy Touch Telephone Teller, DCU ATMs, and our branches for getting information and making electronic payments. Most important, you'll never have to worry about late or missing payments if your mortgage is sold.
For home purchase
Borrow for 1 to 4 family primary residences
Can use to finance condominiums and townhouses – as well as single-family homes.
VA Mortgage Rates*
Term / Property
Points
Interest Rate
Annual Percentage Rate
Estimated
Monthly Payment
per $1,000
VA Mortgage
30 year term, up to 100% of home value
0 points
4.750%
4.84%
$5.22

*Rates are effective and are subject to change at any time. Rates locked in today for 60 days have an expiration date of . Rates apply to loans up to $453,100 (also known as "conforming mortgages").

Rates and Fees disclosed are for loans that meet Secondary Mortgage Market underwriting standards; additional rate and fees may apply for loans outside of those guidelines.

Estimated Monthly Payment per $1000 – Taxes and insurance premiums, if applicable, are not included and the actual payment obligation will be greater.
Mortgage Fees
| Item | Fee |
| --- | --- |
| Mortgage Application Fee | $300 |
| Rate Lock Fee | $0* |
* There is no fee to lock your rate.
Other Approximate Mortgage Costs*
| Item | Approximate Cost |
| --- | --- |
| Closing Costs | $1,900-$2,100 (not including points) per $100,000** |
* Private Mortgage Insurance is also required if the loan to value is greater than 80%. The "Loan to Value" is the total loan amount divided by the value of your property. The value of the property is the lesser of either the purchase price or appraised value. Secondary Market Delivery Fees may be applicable in addition to the Approximate Closing Costs.
** Depends upon the state you are purchasing your home in. Fees may increase based on credit score, down payment, purpose of loan, subordinate financing and property type. Your actual rate, payment, and costs could be higher. Get an official Loan Estimate before choosing a loan.
VA Mortgage Loans
is rated out of
5
by
1
.
Rated

5

out of

5
by
Kelly
from
Professional, efficient, and friendly
Almost on the spur of the moment my wife & I decided we needed a home closer to her parents. Found the home, needed a pre approval letter, and needed to close quickly. Pam, the MLO, listened to my needs...and to make a long story short she arranged the pre approval, took care of the VA COE, and everything else... and we have a new home and it didn't hurt a bit. On the more serious side, the rates were low, the closing costs were well within budget, and service on the loan has been excellent.
Date published: 2013-11-11
---
Does the VA loan include refinancing our existing home?
DCU does only offer purchase financing for VA Mortgage loans.
Date published: 2013-10-23
Can you use a VA loan if purchasing an investment property? Multi-family?
DCU only offers VA Mortgage loans on purchase transactions for a primary residence.
Date published: 2016-12-29
I have a DCU mortgage loan with DCU now. It is a VA loan, is it possible to refi on a VA loan with DCU ?
Refinance opportunities are definitely worth considering. To learn more about your options please give us call so we may put you in touch with our Mortgage Origination Team who can answer any questions you have and accept your application when you are ready to apply.
Date published: 2013-10-23
Does DCU finance construction loans with the VA home loan?
Traditionally the VA home loan is for houses that are already built. Does DCU offer construction loans when they would be backed by the va home loan?
DCU offers Construction Loans in MA and NH only with the following restrictions: • Fixed rate products only • Primary residence only • MA/NH Only • One unit properties only • Borrower may not be their own contractor • Must have an Accept Finding on LP (Saleable to Freddie Mac) • Delivery fees may apply • No escrow for property taxes during construction phase. For VA Loans, DCU only offers: 30 year fixed term, purchase transactions, of a primary residence, which includes condos. For further information, please contact our Mortgage Origination Team directly at 800/328-8797 option 3.
Date published: 2017-02-04
---
"Courteous
DCU Staff "

At DCU, there is always friendly staff and they are always willing to help you in any way.

— Laurie, Acton, MA
"No Hassle Service"

The job always gets done in a efficient and hassel free way. Just the way it should be!

— Bob, Portland, OR
Mortgage Tools and Resources
Related Links