Auto Loan Check
Shop and negotiate at the dealership with cash in hand
---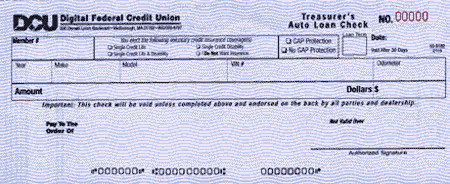 Auto Loan Check
Know how much you can borrow before you shop
Negotiate your car price as a cash buyer
Drive away faster
"Awesome Product"

I love that I was able to take my auto loan check to different dealerships.

— Gibba, Marlborough, MA
What Is An Auto Loan Check?
A DCU Auto Loan Check is a check made out to you that's good for up to your approved loan amount. You can use it to purchase a car at any licensed dealer. Since you already have financing arranged before you shop, you can focus on negotiating the lowest price you can for the car you want like you are paying with cash in hand.
You can use it for a new or used auto, truck, van or motorcycle. Some restrictions may apply, contact DCU for details. The Auto Loan Check cannot be used for a private sale or to refinance a loan at another institution.
How To Get Your Auto Loan Check
If you've already applied for a loan, just give us a call or email us to request an Auto Loan Check. If you haven't applied yet but are interested in buying a car, log in to Online Banking from the homepage to see if you're already approved for a DCU Auto Loan (look for a message in your Account Manager Inbox). You can accept your loan online and check the box for an Auto Loan Check at the bottom of the acceptance form. You can also stop by any branch.
DCU will send you your Auto Loan Check and you'll be driving your new vehicle in no time. If you're not yet approved, don't worry. Applying is easy. You can request your check when you apply.
How to Use Your Auto Loan Check
Once you know how much you want to borrow, make sure the blanks on the face of the check are completed as follows:
Choose a repayment method
Fill out the vehicle information
Fill in the loan amount up to the maximum on the check
Endorse the back of the check yourself (both borrower and co-borrower if applicable).
Make sure the dealer endorses the back of the check as well
Leave the check with the dealer as payment
When the check clears from the dealer, we'll establish your loan according to the amount and term you have specified on the face of the check. It's as easy as that.
Auto Loan Checks
is rated out of
5
by
50
.
Rated

5

out of

5
by
Nikhil
from
Best and the easiest!
This is the best car loan deal out there. Applied online and got a call from DCU the next morning telling they are sending an auto loan check via 1 day delivery for the amount I requested. APR is awesome! I never expected I could get such a low APR with my current credit score. Took the auto loan check to the dealer, negotiated well as I had all the money at hand and was out of the door with my new car in a matter of hours. Highly recommended!!
Date published: 2017-11-18
Rated

5

out of

5
by
rdkind62
from
I love those DCU auto loan checks.
I received my auto loan pre approval and DCU notified me that they were sending me my auto loan check by FedEx and gave me the tracking number. So I began my search for a vehicle and I found the car my wife had been looking for and immediately went to the dealer and worked out the details. It had only been two hours since I had received the approval so I didn't have the check yet and DCU was so accommodating that they scanned in the check and sent the scan to the dealership as proof of the approval and I was able to drive away with the car in minutes.
Date published: 2017-06-04
Rated

5

out of

5
by
Harry
from
Wish this was an e-check!
Did not see the sense in mailing a paper check. Would have preferred to be at the dealer with transfer instructions and take care of payment electronically. DCU may give a logical reason but it worked well with a paper check and the dealer also was familiar with the process.
Date published: 2016-12-31
Rated

5

out of

5
by
Yoshi2015
from
The easiest and most hassle free buying a car has ever been!
I applied for a loan on the 8th of July. I called in several times and spoke to many representatives with tons of questions. Each person was very helpful and friendly. I sent in several purchase orders to figure out which car would work best with my situation. I couldn't have asked for a better experience! Thank you DCU for meeting my needs and exceeding my expectations!!!
Date published: 2016-07-30
Rated

5

out of

5
by
Tosa
from
A really good dea! Fast, simple, effective!
This is a wonderful product. I was pre-approved, but thought that was just a gimmick. Happy to find out that it wasn't. All I had to do was pick up the check, fill it out for whatever amount I chose, and pick the loan term. Then off to the dealer to trade the check for a new car and drive away. Nice!
Date published: 2016-07-30
Rated

5

out of

5
by
Wild willie
from
Great tool in car buying
This is a great feature and takes the stress away from having dealerships try and scam you into a higher rate. I could clearly see in their expression they were not happy I already had my own financing and that's a win for the consumer. Thanks DCU
Date published: 2015-09-19
Rated

5

out of

5
by
LAM15
from
THIS PRODUCT WAS VERY CONVENIENT TO USE
The check made it very easy to purchase a car. Having the money up front and also being approved ahead of time gives you the upper hand with the dealers. You already know what you want to spend, your rate and your monthly payments allows you to sit back and have the dealers work for you. Instead of feeling pressured to take what the dealer can give you. The loan checks make it very easy to purchase a car. I would do it again.
Date published: 2015-03-27
Rated

5

out of

5
by
be
from
Fast & efficient. Made my purchase so easy.
I was pre-approved for a used auto loan. Found a car I was interested in, so I accepted the auto loan pre-approval. Within the same day, I got a call from the bank rep. telling me I was approved & that I could come into the bank and pick up a check to purchase my car. I have never experienced such a fast & smooth transaction buying a car.
Date published: 2015-03-23
---
Can I purchase a used car from an out of state dealer with an auto loan check
I am interested in purchasing a car from an out of state dealer with the DCU auto check. What I'm not sure about is how I get the car registered in Massachusetts. To register the car I need to present the title to the RMV in Massachusetts. However, I'm not sure where the title goes after I pay for the car with the DCU auto check. Could someone explain how this works or if its even possible?
After the Auto Check is used to complete your dealership purchase, the dealership will provide you with the title and documentation needed to register the vehicle in the State you reside in.
Date published: 2013-10-23
Can i use the auto check to but a used car from a private party
Can i use the auto check to but a used car from a private party
Auto Checks may only be used at licensed dealerships. We finance vehicle's purchased through a private party sale, however, the check must be issued after the agreement is made in your name and the seller's name.
Date published: 2013-10-23
Do we need Driver's license to get an auto loan
I want to buy a new car for my husband to drive and I dont have a driver's license. Am I still eligible for loan?
A valid driver's license is required in order to qualify for an auto loan with DCU.
Date published: 2015-04-23
Auto loan check mailing address.
Will the Auto loan check be mailed to my current address on record or can I choose a different mailing address?
The Auto Loan Check will be mailed to your current address on file. To determine if any other arrangements can be made please contact our Consumer Loans Department by phone at (800) 328-8797.
Date published: 2015-08-22
Can I get a loan on car I currently lease.
I would like to buy out my lease.
Leased vehicles may be refinanced to a DCU loan. You may apply easily from our web site, www.dcu.org , by choosing the Consumer and Visa link below the Get A Loan area on the left or by calling us at 800/328-8797 option 3.
Date published: 2013-10-23
---