Share Your Story
Share Your Stories About Your DCU Visa® Card
Details
Terms & Conditions
Browser Requirements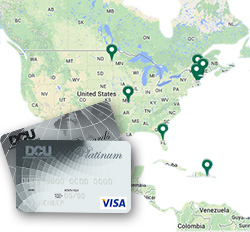 Share Your Story With the DCU Community
Where has your DCU Visa Platinum card taken you? Maybe you used it to book the vacation of a lifetime, to help pay for wedding expenses, or to adopt the family pet you've been waiting for.
Share your stories, memories, and big plans here with the DCU community and read what other DCU members have done with their own DCU Visa Platinum cards. Search locally, nationally, or worldwide to see what members everywhere are enjoying with their cards.
We usually ask, "What Can DCU Save You?" Now we want to know, "Where Has DCU Taken You?".
DCU Values You and Your Opinion!
When writing your submission, please consider the following guidelines:
Focus on the DCU Visa product and your individual experience using it
Provide details about why you liked or disliked the DCU Visa
All submitted postings are subject to the terms set forth below
We reserve the right not to post your submission if it contains any of the following types of content or violates other guidelines:
Member numbers, account numbers, member names, and other personally identifiable financial information
Obscenities, discriminatory language, or other language not suitable for a public forum
Advertisements, "spam" content, or reference to other products, offers, or websites
Email addresses, URLs, phone numbers, physical addresses, or other forms of contact information
Critical or spiteful comments on other submissions posted on the page or their authors
Information which is not permissible to publish on a credit union website in the form submitted as per government regulations governing credit unions
In addition, if you wish to share feedback with us about product selection, pricing, ordering, delivery, or other member service issues, please do not submit this feedback through this forum. Instead, contact us directly by calling 508.263.6700 | 800.328.8797 or emailing dcu@dcu.org.
Share Your Story Terms of Use
These Terms of Use govern your conduct associated with the Share Your Story community page (the "SYS page") offered by DCU - Digital Federal Credit Union. To the extent of any conflict between DCU's Privacy Policy and these Terms of Use, these Terms of use shall control with respect to the SYS page.
By submitting any content to DCU, you represent and warrant that:
you are the sole author and owner of the intellectual property rights thereto;
all "moral rights" that you may have in such content have been voluntarily waived by you;
you are not using this service for any unlawful purposes or illegal activities;
all content that you post is accurate;
you are at least 13 years old;
use of the content you supply does not violate these Terms of Use and will not cause injury to any other person or entity;
DCU will not be help responsible for loss or damage due to your failure to comply with the Terms of Use;
You further agree and warrant that you shall not submit any content:
that is known by you to be false, inaccurate, or misleading;
that infringes any third party's copyright, patent, trademark, trade secret, or other proprietary rights or rights of publicity or privacy;
that contains personally identifiable financial information such as member numbers, account numbers, or member names (including your own, unless you have chosen your name as your screen name) or any other person;
that violated any law, statue, ordinance, or regulation (including, but not limited to, those governing export control, consumer protection, unfair competition, anti-discrimination, or false advertising);
that is, or may reasonably be considered to be, defamatory, libelous, hateful, racially or religiously biased or offensive, threatening or harassing to any individual, partnership or corporation (this also applies to images contained in your profile picture, should you choose to add one);
for which you were compensated or granted any consideration by any third party;
that includes any information that references other websites, addresses, email addresses, contact information, or phone numbers;
that includes information which is not permissible to publish on a credit union website in the form submitted as per government regulations governing credit unions
that contains any computer viruses, worms, or other potentially damaging computer programs or files.
You agree to indemnify and hold DCU (and its officers, agents, subsidiaries, joint ventures, employees, and third party service providers), harmless from all claims, demands, and damages (actual and consequential) or every kind and nature, known and known including reasonable attorneys' fees, arising out of a breach of your representations and warranties set forth above, or your violation of any law or the rights of a third party.
For any content you submit, you grant DCU a perpetual, irrevocable, royalty-free, transferable right and license to use, copy, modify, delete in its entirety, adapt, publish, translate, create derivative works from and/or sell and/or distribute such content and/or incorporate such content into any form, medium, or technology throughout the world without compensation to you.
All content posted by you is public and may be viewed by other users and non-users of the SYS page. All content that you submit be used at DCU's sole discretion. DCU reserves the right to suspend or terminate users and change, condense, or delete any content on DCU's website that DCU deems, in its sole discretion, to violate the content guidelines or any other provisions of these Terms of Use. DCU does not guarantee that you will have any recourse through DCU to edit or delete any content you have submitted. Written comments are generally posted immediately. However, DCU reserves the right to remove or to refuse to post any submission for any reason. You acknowledge that you, not DCU, are responsible for the content of your submission. None of the content that you submit shall be subject to any obligation of confidence on the part of DCU, its agents, subsidiaries, affiliates, partners, or third party service providers and their respective directors, officers, and employees.
By submitting your email address in connection with your profile, you agree that DCU and its third party service providers may use your email address to contact you about content you have posted, to ask you more about the information you submitted, and for other administrative purposes. If you submit feedback or suggestions about one of our products and/or services, DCU may use such feedback or suggestions without obligation to you.
The screenname you choose will display publicly with content you add and comment on. You are responsible for safeguarding the password chosen by you to access this service. You are encouraged to use a "strong" password (using a combination of upper and lower case letters, numbers, and symbols) in association with your profile. Accounts that are inactive may be removed without further notice.
DCU reserves the right to add or remove functionalities or features to the SYS page, or to suspend or cease the page altogether at any time.
Browsers Required to Share Your Story
While a variety of browsers may work to use and navigate Share Your Story, the following browsers and versions are supported to work as intended: