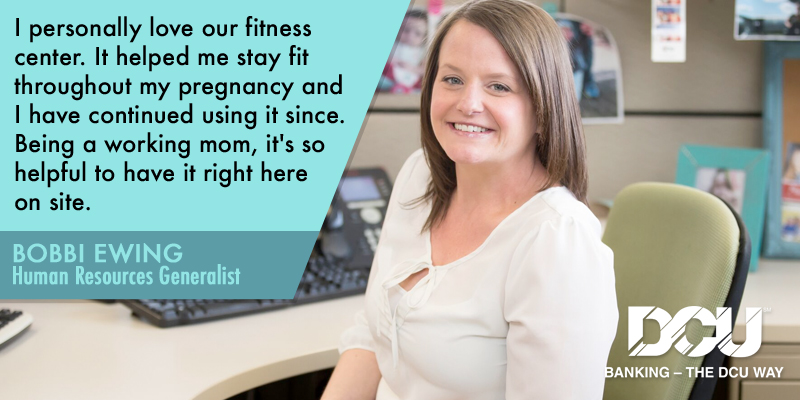 DCU encourages an equitable work/life balance for all employees. They support this by offering flexible work schedules, telecommuting, on-site Fitness Center with personal trainers, an Employee Assistance Program (EAP) that is open to employees and their families, discounted Legal Services and "Take Your Child to Work Day." The importance of "family time" is recognized by DCU.
To help with the increased costs associated with recreational activities, DCU offers employees "free" tickets to the New England Aquarium in Boston, as well as discount tickets to area attractions, amusement parks, and theaters. Additionally, DCU has daily raffles for tickets to the Red Sox, Bruins, and Celtics games, as well as other sporting events and concerts. Also, employees receive a $50 "holiday" gift to help with their holiday meal.
The unique culture starts when new employees are immediately embraced by DCU upon arrival on their first day. Upon entering, they are greeted by the receptionist with a "Welcome" sign. They then enjoy an informal breakfast, which initiates casual conversation and a warm welcome, with the CEO and a representative from Human Resources (HR). By the time the breakfast is complete, the members of the Senior Team know all new employees by name and have offered the keys to success at DCU.
This is just the beginning of the "DCU experience."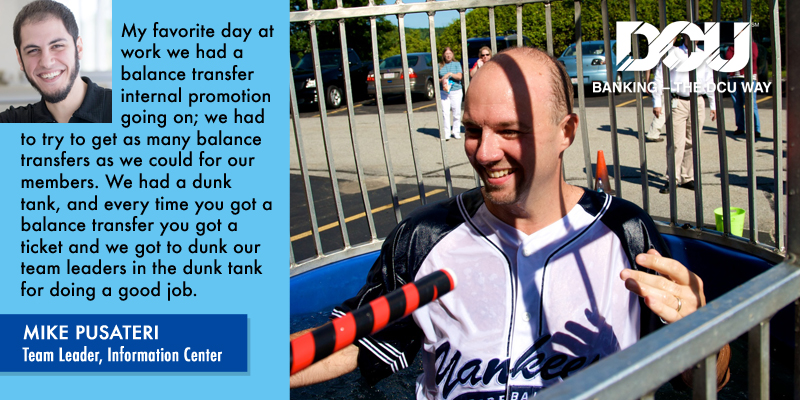 DCU offers a casual dress work environment at its Headquarters and Operations Center and strives to reduce the stresses that are part of everyday life.
In both Headquarters and the Operations Center, employees can get chair massages and reflexology, play pool in the game room, take an aerobics or yoga class in the Fitness Center, eat in the subsidized cafeteria, take advantage of the FREE soda machine and seasonal snacks, and enjoy free coffee and cappuccino every day!
Additionally, all the vending machines are subsidized; employees only pay 75 cents for beverages and 50 cents for snacks. To help simplify their busy lives, employees can buy stamps, mail packages, take care of dry-cleaning, and benefit from an on-site flu clinic.
Our branches enjoy perks and fun events as well. Who doesn't love a visit from an Ice Cream Truck, raffles, a surprise gift box of prizes or treats, or a branch luncheon to celebrate Free Food Friday.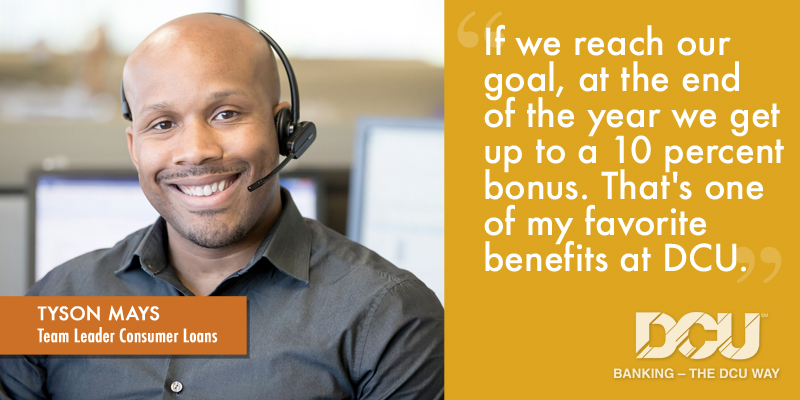 Growth and member satisfaction are important indicators of how well we are delivering on our promise to our members. We recognize our employees make it happen. As a result, we reward employees for achievement through DCU's "Success Sharing" – a company-wide bonus program. By working together as a team to achieve common goals, every employee, with the exception of the CEO, is eligible to earn a bonus up to 10% of their annual salary.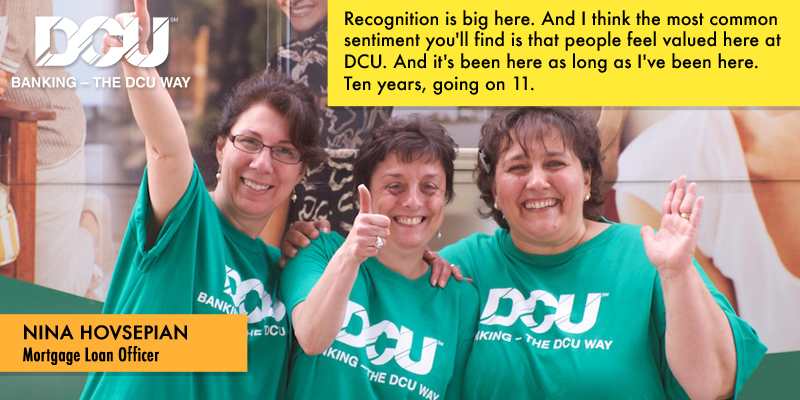 Our tenure recognition program is another unique aspect of our culture. Employees receive their choice of movie passes or a gift card in recognition of their yearly employment anniversary. At five-year intervals, employees receive $100 for every year of service as well as a bonus vacation week.
Also, the CEO and a representative from HR host a monthly, informal luncheon with the tenure recipients and invite the employees who have completed one year of service to join in on the fun. It's a great way to get to know each other, ask questions, and introduce long and short-term staff. They all share their experiences and DCU gains valuable insight about ways to improve work life.