Easy Ways to Pay Bills at DCU
People Pay, Bill Payer, Payment Center, DCU Visa® Credit/Debit Cards, ACH Payments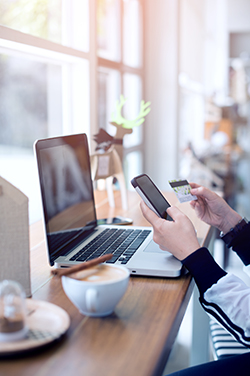 Easy Ways to Pay Bills at DCU
Paying bills doesn't have to be difficult, time consuming, or costly. In fact, it should be the exact opposite! DCU offers several simple, fast, and FREE ways to pay your bills...and people too
Here are some convenient ways to pay your bills with your DCU accounts.
People Pay – A fast, safe way to send money online. You can send money to almost anyone with an email address or a mobile number.
Bill Payer – Pay virtually anyone, anytime from your DCU Checking and Online or Mobile Banking. You can also receive some bills electronically and pay recurring bills automatically.
Payment Center – Lets you make DCU loan payments with money at DCU or other financial institutions. You'll find it inside Online and Mobile Banking under Account Manager. You can make one-time or recurring payments and transfers to your DCU loans.
DCU Visa® Credit and Debit Cards – Many merchants accept Visa by mail, online, or in-person for payment. Some offer recurring automatic payments. Most merchants that accept Visa credit cards accept Debit, too.
ACH Payments – Also known as electronic checks or pre-authorized debits. You give a biller authority to withdraw payment from your DCU checking account. Cable, power, and insurance companies regularly offer this option.